Level 2
posted
last updated

‎March 17, 2021

11:00 AM
Mark as New

Bookmark

Subscribe

Email to a Friend
Confused about at-risk losses
I have completed filling out my tax return online. When I get to the end "Federal Review", I am asked to "Check this entry". It says "At-Risk operating loss...sum of losses in individual years should not be greater than the total loss". I am ultimately directed to a section under Income & Expenses where I am asked to "Enter info about at-risk losses" (see screenshot). Under Regular Tax, the numbers shown for operating loss for 2018 and 2019 were not manually entered by me. They must have been pulled or calculated from somewhere. Clearly, these numbers do not add up to the "Total" shown underneath them. Am I supposed to change these numbers to make them add up to the Total? I don't know what I'm supposed to do, or what this even means. I am equally confused about the operating loss for 2019 not adding up to the total in the QBI Deduction section. Any help is sincerely appreciated. Thank you.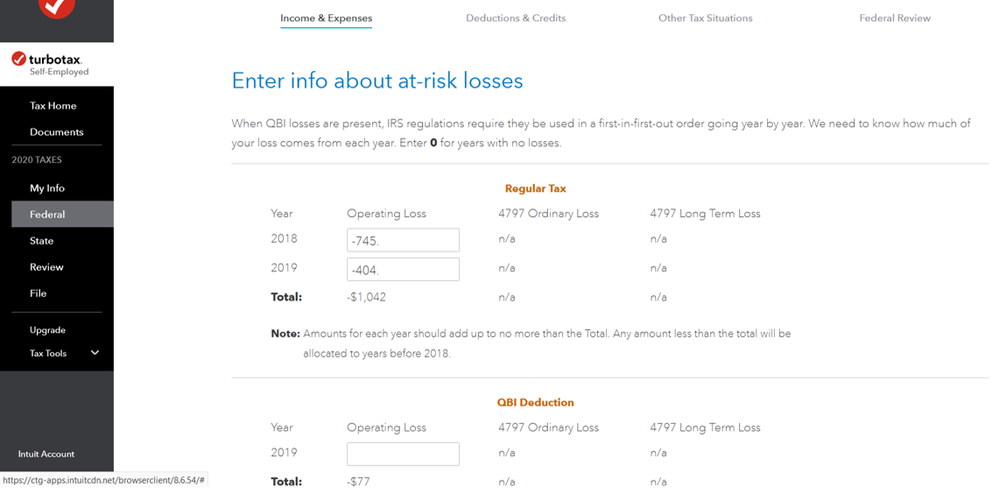 1 Best answer

Employee Tax Expert
Mark as New

Bookmark

Subscribe

Email to a Friend
Confused about at-risk losses
The issue seems to be the at risk losses for 2018 added to 2019 is greater than the total listed there of 1,042. I think the total is the total accumulated loss through the current year, so the totals for 2018 and 2019 could not be greater than that amount, since the total would be all years added together.
I don't think it would matter what years the amounts came from, so you could probably change the 2018 number $-637 and that would make the total less that the $-1,042.
The QBI number is also an accumulated figure, so the $-77 is probably from the current year so that entry should be OK.
The at risk loss amount will not impact your tax return until a year when you have money at risk in the venture, and it would reduce your income in that year to the extent you are at risk.
**Say "Thanks" by clicking the thumb icon in a post
**Mark the post that answers your question by clicking on "Mark as Best Answer"
4 Replies