Highlighted
Community Manager
posted
‎November 20, 2019
1:55 PM
last updated

‎December 12, 2019

5:42 PM
Mark as New

Bookmark

Subscribe

Email to a Friend
Introducing the Intuit Community Champions Program!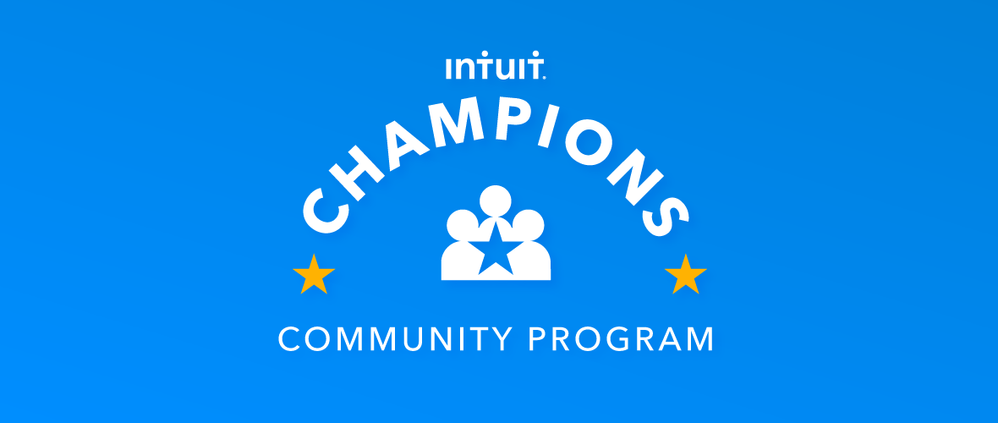 Hello everyone,
As we move into the holiday season, and our busiest time of year, we are excited to share some exciting changes to our Communities. Based on conversations with customers and invaluable feedback from our members, we at Intuit are making strides to formally recognize and promote our top Community members. After months of research and preparation, we are excited to announce the launch of the Intuit Community Champions program. This program will unite our top contributors from QuickBooks, ProConnect, TurboTax, Mint, and Turbo Communities in a way we have never done previously.
We'd love to share with you how the program works, and welcome questions you may have. We hope you are as excited as we are!
When will the Community Champions program start?
We will be opening our application forms in early December 2019, and welcoming our first class of Champions to join with their new privileges in early 2020.
What are the benefits of becoming an Intuit Community Champion?
Exclusive access
Network with fellow Champion and Intuit employees Intuit representatives in a dedicated members only space and share your feedback to improve Intuit products and services

Invites to exclusive events, training, and beta testings.
Special Community Status
Receive Champion-only badges and options to certify and personalize your community profile.

Participating (or even hosting!) in-person local events.
Special Surprises
Fun Intuit giveaways and special Champions-only surprises are also included
How much does it cost to be part of the Community Champions program?
There is no cost to become a member of the program.
How can I be considered for the Community Champions program?
If you are an active contributor in our community you can apply at any time, however, the guidelines below will improve your chances of approval:
When you have been a member for 6 months

By displaying the ideal attributes of a Community Champion
If you feel you make the grade, you can apply! We will accept new candidates each quarter.
What makes an ideal Community Champion?
Respect: Champions always act with respect, knowing that there is a member behind each question and username.
Openness: Champions create content to share what they know and also learn from others.
Involvement: Champions see the benefit of networking and sharing experiences in the community.
Advocacy: Champions are advocates of our products and embrace the mission and values of Intuit.
How does the application process work?
Receive a Nomination:

For current SuperUsers, you will skip nominations and move directly to step three: Apply.

We are counting on our current SuperUsers, however, who know our communities best, to keep an eye out for prospective Champions. Nomination forms will be available in all communities.
Application Review:

The Intuit Community team will review all applications, taking great consideration into the nominee's current community activity.

Application:

Nominees who pass the review process will be asked to fill out an application form, NDA, and agree to the Champion Code of Conduct.

Acceptance:

Congrats! This step is when your profile will be updated and we formally welcome into the program (with celebratory swag, of course).

Renewal/Removal:

On a yearly basis, we will review and renew current Champions. On a quarterly basis, we will invite new Champions into the program.

How much commitment is required to be a Community Champion?
Regular contributions to the Community are expected in order to be a part of the program, but if you'd like to take some time away, that's ok too. We will review and renew each Champion program membership annually.
What will happen to the existing All-Star/superuser programs?
The previous Superuser and All-Star programs across Intuit will be retired with the launch of the Community Champions program. Don't fret, all existing Superusers and All-Stars will be grandfathered into the new program for the first year.
How do I nominate someone to be an Intuit Community Champion?
Submit your nomination on this form. Be sure to include your nominee's current involvement in the Community, and why they would be a good fit for the Champions program.
**Say "Thanks" by clicking the thumb icon in a post
**Mark the post that answers your question by clicking on "Mark as Best Answer"
2 Replies

Level 1
Mark as New

Bookmark

Subscribe

Email to a Friend
Introducing the Intuit Community Champions Program!
Thank you for allowing me to be part of this great community. Im here to help in any way!
Mark as New

Bookmark

Subscribe

Email to a Friend
Introducing the Intuit Community Champions Program!
We are so happy to have you here! Thanks for participating.