New Member
posted
last updated

‎May 31, 2022

7:22 AM
How do I get to tax home on turbo tax?
I simply want to find Tax Home on the website so that I can get to last years return
2 Replies

Level 15
How do I get to tax home on turbo tax?
Please follow the instructions below for a copy of your tax return after filing.
How do I get a copy of a return I filed this year ...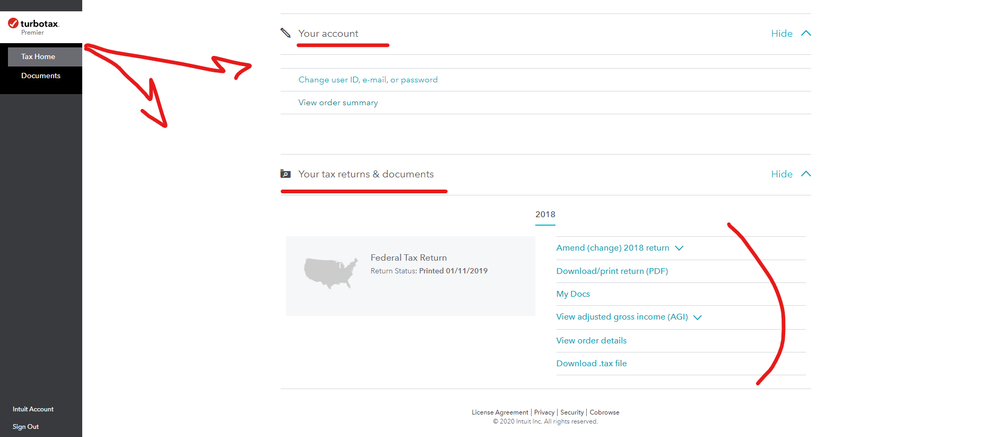 Level 15
How do I get to tax home on turbo tax?
...and...one thing I noted at the very start of this year.
If you haven't actually started the initial interview for a 2021 tax return in your account, the "Tax Home" selection won't appear on the left side until you get started a few steps into the 2021 preparation interview. Doing so doesn't commit you to preparing and filing using TTX if you've already filed for 2021 elsewhere....but you have to at least start answering a few interview questions sometime since the 2021 Online tax software was initiated, before that Tax Home selection appears.
_____________
Of course, TTX might have changed that subtle requirement since then, but all of us helpers have gone way beyond that point by now, and wouldn't be challenged by that point anymore.
____________*Answers are correct to the best of my knowledge when posted, but should not be considered to be legal or official tax advice.*
Found what you need?
Start my taxes
Already have an account? Sign In

(4.6/5 | 291,310 reviews)