Level 3
posted
last updated

‎June 28, 2022

3:30 PM
How to enter the reported numbers from Sch k1 footnotes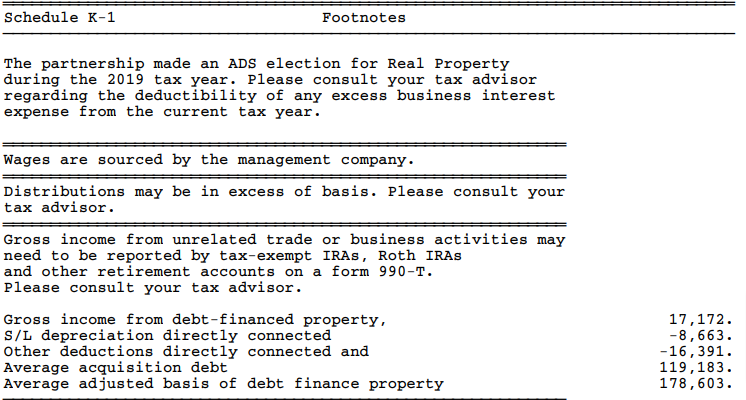 I have these numbers in the Footnotes section of my Sch K1, but I don't know where to report them.
Please help!
3 Replies Level 15

Level 15
How to enter the reported numbers from Sch k1 footnotes
ADS - nothing needs to be done unless the partnership reports excess business interest. I don't think Turbotax is capable of handling this situation. but it doesn't seem that any EBI has been reported.
wages not sure why this was even reported. has no effect
if distributions exceed your tx basis you have a capital gain. short-term if you've owned the partnership for 1 year or less. long-term otherwise.
the other items are only used to compute unrelated business income which only applies to tax-exempt entities like IRAs, pension plans, 401ks, and the like. so if you own the partnership you can ignore this info.
if the partnership interest is owned by a tax-exempt entity, nothing on the k-1 gets reported on your 1040

Level 8
How to enter the reported numbers from Sch k1 footnotes
You can enter footnote info on line 20, code AH. However, TT doesn't do anything with that info. On the forms (and maybe in the interview) there's an * stating "Manually enter item here and on appropriate tax form or schedule".
So the real question is whether any of those footnotes affect your tax return. I'm not familiar enough with these entries to offer any opinion there. If they do, you'd have to enter the numbers on the correct forms. If they don't, you don't need to enter them at all.
**Say "Thanks" by clicking the thumb icon in a post
**Note also, I'm not a Tax Preparer/CPA. Just a volunteer, seasoned, TurboTax user.
Use any advice accordingly!
Found what you need?
Start my taxes
Already have an account? Sign In

(4.6/5 | 291,310 reviews)