Level 2
posted
‎February 20, 2021
6:57 PM
last updated

‎February 20, 2021

6:57 PM
Mark as New

Bookmark

Subscribe

Email to a Friend
Can't Contact Accountant Assigned to Me, Now Unable to File Taxes or Downgrade
Hey everyone! So I began filing my taxes on a Sunday evening and opted for the Deluxe I believe and wanted to have an expert file my taxes for me as there were things I was unsure of how to go about.
I received a quick call from the accountant assigned to me that night who told me what else I needed to upload record-wise for him, and we rescheduled to call the next day. I waited and received no call. I reached out to him via the turbo tax portal messenger and asked if we could reschedule over the next couple of days. I waited a couple of days and never received a response or any confirmation that he had been working on my refund.
The big issue I have with this is that I'm essentially locked into this process. I can't progress further in the tax filing without the accountant, and I have no option to downgrade since I haven't gotten far enough in the process to pay for it. Since I had opted for an accountant to file for me, my normal Turbo Tax options don't populate. The only tab on the left I can click on is the "My Expert" tab. The normal tabs where I could choose to upgrade or "Clear and Start Over" as was recommended to me by Customer Support are unavailable. See the image here: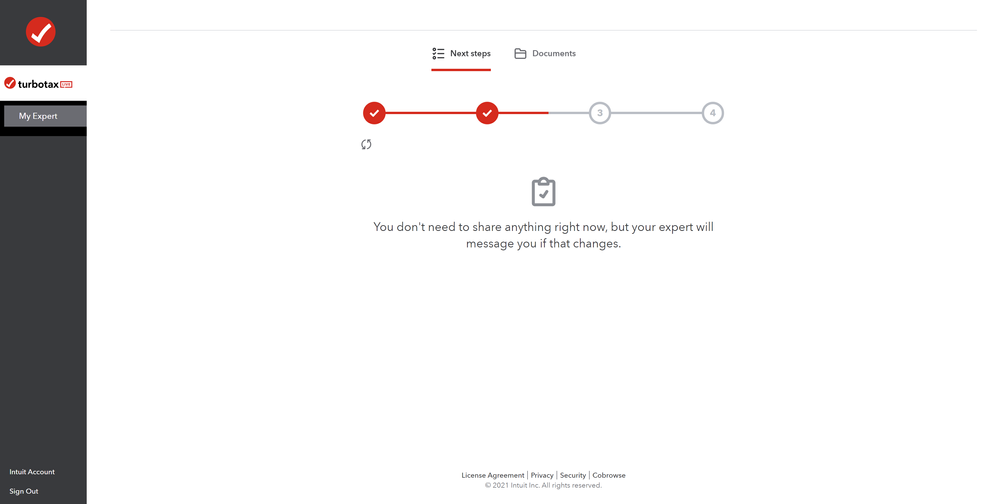 After talking with a few people about the issue I thought about possibly deleting my account and creating a new one to work around this issue, but I discovered that TurboTax accounts are unable to be deleted.
I'm not in a huge rush, and I'm not upset or anything, but I'm at an absolute loss for what to do now. Has anyone had this problem before? Does anyone know who I could contact in order to fix this issue?
Any help is appreciated. Thank you!
10 Replies