Level 1
posted
last updated

‎March 28, 2021

3:03 PM
Mark as New

Bookmark

Subscribe

Email to a Friend
TurboTax Updates on Unemployment did not change my refund
To be simple let's say I was getting 2,000 back, and I received 20,400 in unemployment. I went in and adjusted it to 10,000 to see what would happen when they passed the bill removing 10,400 via tax-free funds.. and it went up to 3,000 (I was happy and decided to wait for the update) When they actually passed the bill, I thought that when I logged back in, it would adjust but nothing? I noticed Turbotax said it updated their system but again it never adjusted my return? is there a way to see if I got the newest version? I am using the online version OR should it not of adjusted my return I have no idea, just want to know if anyone else had their return change?
1 Best answer

Level 15
Mark as New

Bookmark

Subscribe

Email to a Friend
TurboTax Updates on Unemployment did not change my refund
Have you re-entered the full amount of unemployment compensation you received in 2020?
The exclusion amount is shown on Schedule 1 Line 8 as a negative number and your unemployment compensation is on Line 7
Click on Tax Tools on the left side of the screen. Click on Tools. Click on View Tax Summary. Click on Preview my 1040 on the left side of the screen.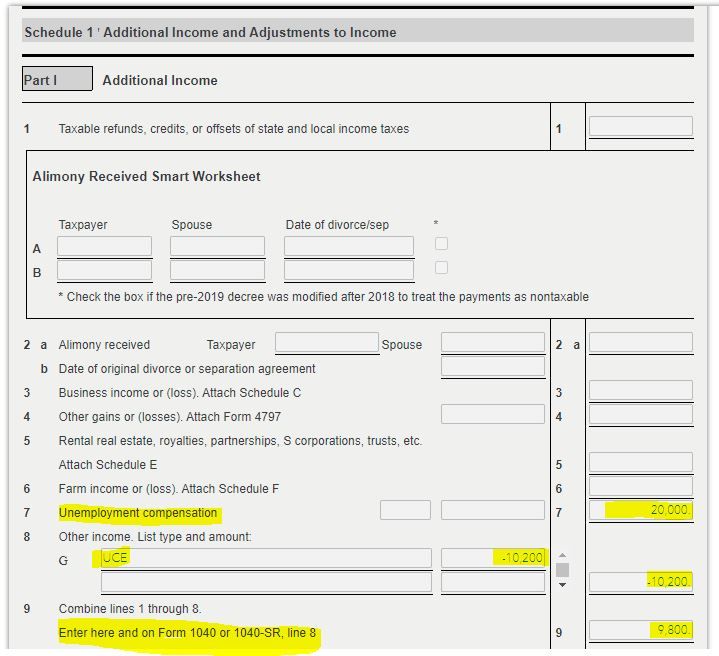 5 Replies