Returning Member
posted
last updated

‎June 28, 2020

1:57 PM
Mark as New

Bookmark

Subscribe

Email to a Friend
form 1099-R input
I'm a NYS retired employee. My income from the NYS retirement system is non-state-taxable. When I fill out the 1099-R information in Turbo tax box 12 should be prefilled with the word "EXEMPT", and when I complete my state return I should see a credit for the full value of my two pension incomes for the year. This is the way it has worked for the past 10 years. Now Turbo Tax tells me I am responsible for paying a RMD for my pension, and my state return adds the total of my recorded pensions to my taxable income.
This is a gross error. Please fix this this bug!
1 Best answer

Level 15
Mark as New

Bookmark

Subscribe

Email to a Friend
form 1099-R input
1) Once you reach age 70.5, the tax software will ask you if you "received" your RMD for pensions you receive, or IRA & 401k accounts you might have. This is a Federal thing, and now that you have reached age 70.5, you will start seeing the RMD question every year.
For any pension 1099-R where you receive regular payments (usually monthly), you just answer YES you received the RMD for that one...you have no control over it, but the pension provider is responsible for issuing the RMD amount. For actual IRA or 401k accounts you may own, those RMD amounts must be arranged and taken by you every year after you reach age 70.5, since these separate retirement accounts are normally under your control. (Soon to be age 72...but that's not be available to folks who reached 70.5 on, or before, 31 Dec of 2019).
_________________________
2) To get the NYS pensions to NOT become NY income, you must edit the 1099-R in the Federal section, and then select the proper NY pension type on a followup page. That selection is what will make that pension amount exempt form NY taxes. There is also a critical NY distribution amount that needs to be entered when you select the pension type...the NY Distribution amount is NOT a zero. It should be the same as box 1 of the 1099-R if box 1 and 2a are the same....or box 2a if that is a bit lower (but not zero). The NY distribution amount is what will be subtracted from Federal AGI "IF" the proper NY pension type has been selected.
I'll post a picture later today when I get to my computer with an example....
_________________
Post 1099-R followup page for NY Pension type selection page: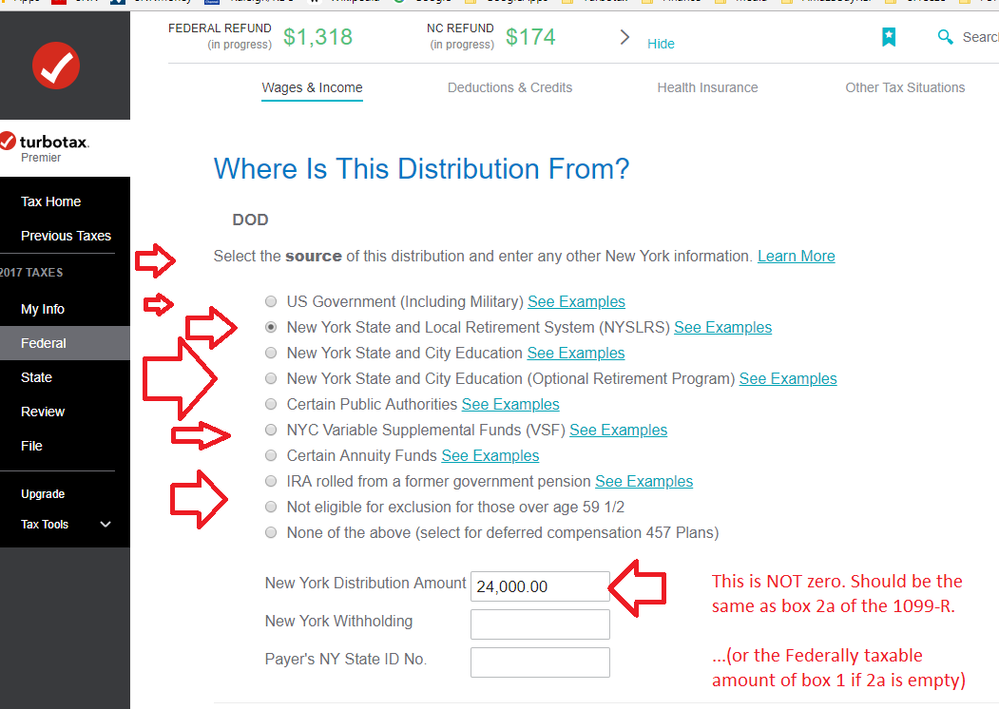 *Answers are correct to the best of my knowledge when posted, but should not be considered to be legal or official tax advice.*
6 Replies