Level 2
posted
last updated

‎July 07, 2019

5:50 PM
TurboTax 2018 - trapped in the CA state download/install loop
Hi,
I tried to come back to the Tax preparation.
As I click the app on Mac, it led me to update the Federal and State SW.
As I go through the update/install steps, I encountered following message - "The Tax return you are attempting to load contains one or more state tax forms which are not installed on this machine. Please install California to continue."
So I followed the instruction step by step to download & install CA state package.
The download & install completed successfully but I still encounter the warning message above and I had to do the download & install process all over again, but I couldn't get out of the CA package install/update loop.
Please help me.
See the pictures below: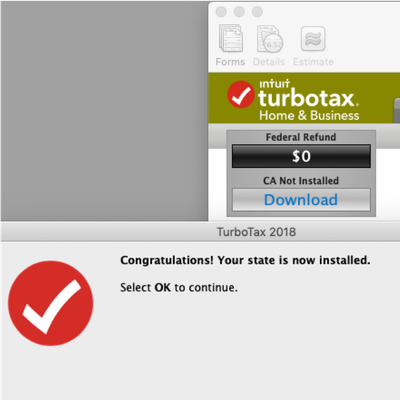 TT reports successful installation.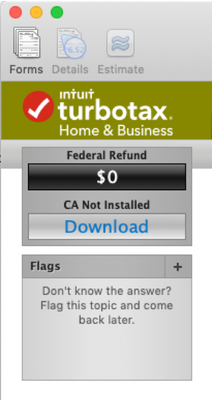 But after the restart of Mac or TT , it still says "CA not installed" 😡
1 Best answer

Level 15
TurboTax 2018 - trapped in the CA state download/install loop
To anyone with the Mac software still having this problem:
I heard back from TurboTax today. This was a recent issue that was supposed to have been resolved for most Mac users last month.
EDITED: A user reported the recent program update resolved this issue for him. So be sure you have the latest program update.
If that doesn't resolve it here are a couple of things to try:
While it can be resolved by phoning Support and getting the state software download, I was informed today that there is something a user can do on their own without phoning Support. These are the steps I was given for any Mac user to try who is still having the problem:
Select the

Go

menu.
Choose

Go to Folder.
Enter ~/Library

and select

Go.
Navigate to the

Application Support

folder.
Open the

TurboTax

folder.
Open the

forms

folder and extract the

state zipped

folder listed there.
Once completed, relaunch TurboTax.
So based on those steps, it sounds like the state program was not being extracted. So if updating your program with the latest update doesn't resolve it, one may with to try that and see if that will avoid the hassle of phoning Support.
16 Replies
Found what you need?
Start my taxes
Already have an account? Sign In

(4.6/5 | 291,310 reviews)