Returning Member
posted
last updated

‎July 21, 2021

6:08 AM
Help
I am having trouble filling out and I keep getting rejected by the IRS on my taxes can you help me out
2 Replies

Level 15
Help
You received an email that we cannot see that tells you why your tax return was rejected.
Some rejected returns can be fixed and re-filed. Some have "un-fixable" reasons for the rejection and have to be mailed instead. What is the rejection code or rejection message?
If it was rejected for AGI—-be aware that many 2019 returns took so long for the IRS to process that your 2019 AGI might not be in the IRS system. Try using zero instead.
If filing with zero is rejected then file again but select the option that you did not file last year. The IRS does not see that question and it will allow you to e-file with no AGI question.
Or—-if you filed as a "non-filer" just to get the stimulus check on a 2019 return, try using $1 as the AGI.
https://ttlc.intuit.com/community/agi/help/where-do-i-correct-my-agi-in-turbotax-online/00/26311
If that does not work and you still cannot e-file, then print, sign, and mail your tax return.
**Disclaimer: Every effort has been made to offer the most correct information possible. The poster disclaims any legal responsibility for the accuracy of the information that is contained in this post.**

Returning Member
Help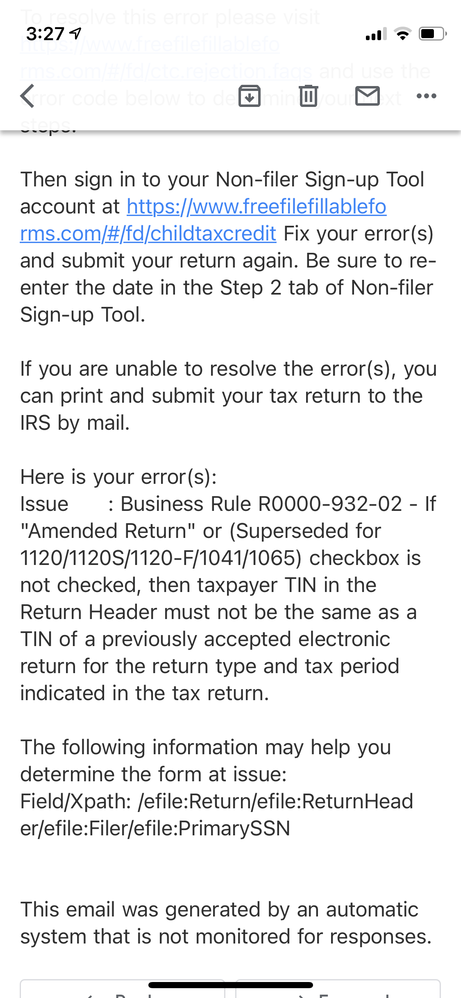 Found what you need?
Start my taxes
Already have an account? Sign In

(4.6/5 | 291,310 reviews)