New Member
posted
last updated

‎April 27, 2021

7:29 AM
Mark as New

Bookmark

Subscribe

Email to a Friend
Child tax cred
Isn't the child tax credit fully refundable this year? It said I only qualified for $480 but usually you get 1400 per child. I have two children but only made under 6k last year. Will I get that money? Do i need to amend or will it happen automatically?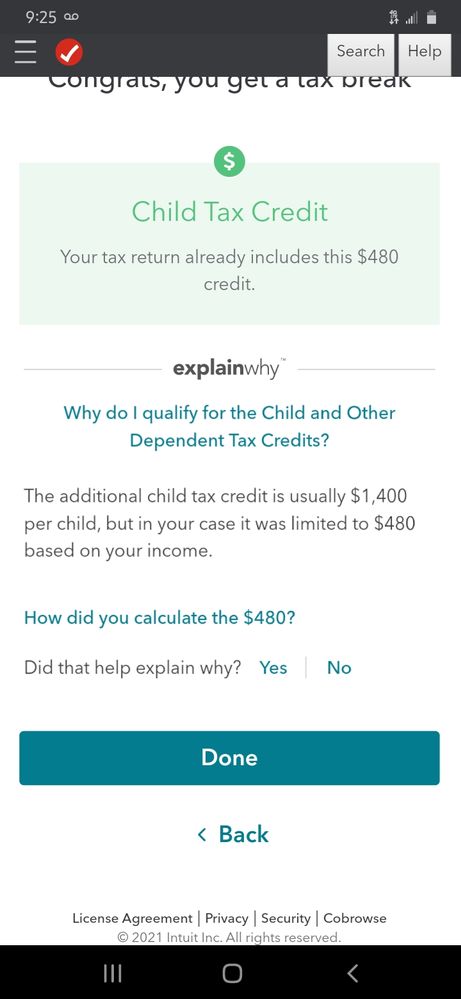 2 Replies

Level 15
Mark as New

Bookmark

Subscribe

Email to a Friend
Child tax cred
The additional child tax credit is based on how much income you earned from working. You get 15% of the amount earned over $2500. It is not a flat $1400 per child. You say you earned less than $6000---so subtract $2500 from the amount earned and multiply by 15%.
And the increased child tax credit is for 2021--not for 2020.
That CTC increase is not for 2020; it is for 2021. Your 2020 return does not have to be amended for it. More information will be available soon; the details of how it will be implemented have not yet been clarified fully. There may be monthly payments going out beginning in July 2021, with some of the CTC still left as a refundable credit on your 2021 tax return next year.
https://ttlc.intuit.com/community/tax-topics/help/how-will-the-stimulus-package-impact-me/01/1393859...
**Disclaimer: Every effort has been made to offer the most correct information possible. The poster disclaims any legal responsibility for the accuracy of the information that is contained in this post.**

Level 15
Mark as New

Bookmark

Subscribe

Email to a Friend
Child tax cred
For 2020, the child tax credit is a maximum of $2000. If you don't owe any tax because of low income, you can get up to $1400 per child, but this depends on how much income you have from working--it's not free money, the more you work, the more credit you get. What Turbotax told you is what you get.
For 2021, the credit will be $3000 (or $3600 for children under 6) and you don't have to work to get it. This is a temporary change so far, and the credit will go back to the old rules for 2022, unless Congress passes another update to the law.
*Answers are correct to the best of my ability at the time of posting but do not constitute legal or tax advice.*