New Member
posted
last updated

‎June 20, 2022

1:33 PM
State Return Ca
I have a message that my Federal Tax return was accepted in February. I already have that done. But I cannot find any acceptance by Ca State. I thought I filed at the same time on line. When I call the tax board there is no information on a return for me.
Can I file the Ca return again? I don't see how to file it without filing Federal.
Screen shots would be helpful.
Terry
2 Replies

Level 8
State Return Ca
If the Franchise Tax Board has no record of your return, you probably never finished filing your state return.
If you used TurboTax Online, you can log into your account to see the status of your returns. It should say accepted for California if you successfully filed. TurboTax should also have sent you an email (and text message, if you opted in), saying your returns were transmitted.
If you used TurboTax CD/Download:
Open the File menu
Select Check E-file status
Or, go to the File tab and select the Check E-file Status header
For a video see: How do I check my e-file status?
If your federal was accepted, you should be able to e-file state by going back into TurboTax. For TurboTax Online, scroll down to Your tax returns & documents on the landing page and select Continue my CA Return. If you have problems, you can print and mail.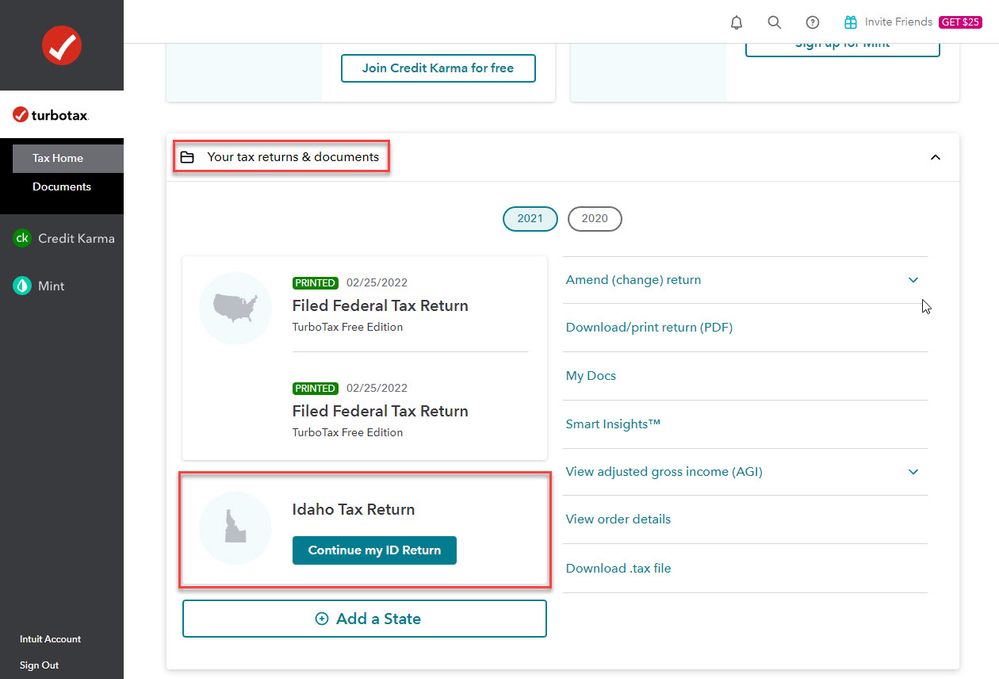 If you are using CD/Desktop, open the programme. Tap the State tab and continue through the filing process.

Level 15
State Return Ca
Yes you can try Efiling CA again. It if already was filed it will just reject so no problem.
Found what you need?
Start my taxes
Already have an account? Sign In

(4.6/5 | 291,310 reviews)