New Member
posted
last updated

‎March 09, 2020

11:13 AM
Mark as New

Bookmark

Subscribe

Email to a Friend
I have entered my military w-2 and it keeps asking me to submit a w-2, but all i have is my military one. I have no way of completing my taxes with out fixing this glitch. Please help
2 Replies

Expert Alumni
Mark as New

Bookmark

Subscribe

Email to a Friend
I have entered my military w-2 and it keeps asking me to submit a w-2, but all i have is my military one. I have no way of completing my taxes with out fixing this glitch. Please help
Thank you for your service!
Type 'w2' in the Search area, then click on 'Jump to w2'.
At the W-2 Summary page, if there is an 'untitled' W-2 showing, you can Delete it.
You can also Edit your Military W-2 to be sure it is correct.
**Say "Thanks" by clicking the thumb icon in a post
**Mark the post that answers your question by clicking on "Mark as Best Answer"

Level 15
Mark as New

Bookmark

Subscribe

Email to a Friend
I have entered my military w-2 and it keeps asking me to submit a w-2, but all i have is my military one. I have no way of completing my taxes with out fixing this glitch. Please help
One error Users make when entering a Military W-2, is to not carefully read the pages that follow the main W-2 form entry page.
Edit the W-2...(Check the values on the main form...just to be safe) then go to the next page...with a bunch of checkboxes on it.....you Need TO Check The Top box to indicate it is a Military W-2. Then "Continue" any following pages until you get back to the table few W-2 forms.
After that checkbox is checked, then there should be no more complaints about that particular problem.
_________________________________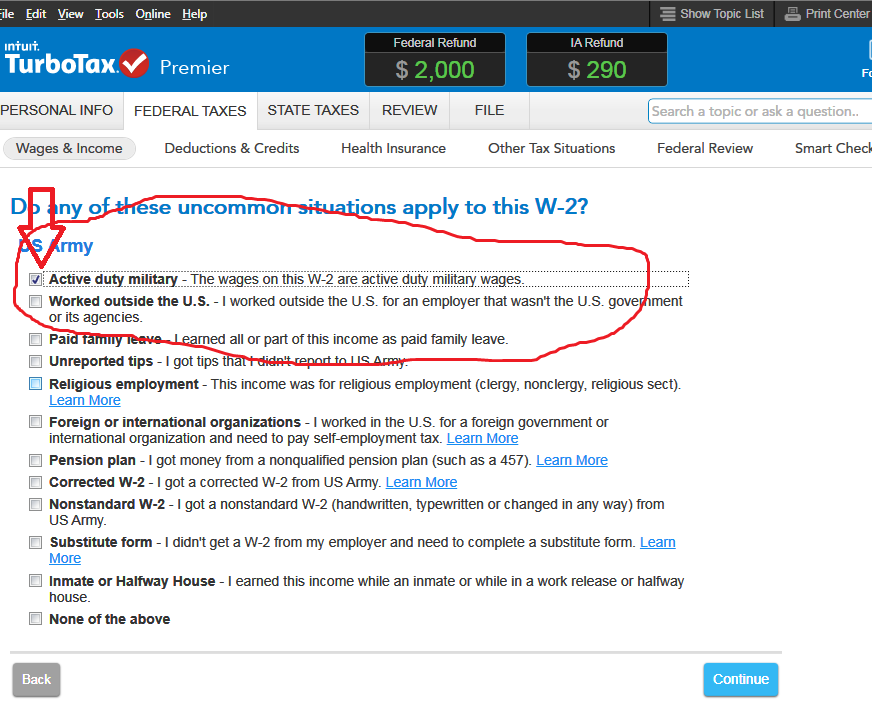 *Answers are correct to the best of my knowledge when posted, but should not be considered to be legal or official tax advice.*