Returning Member
posted
last updated

‎June 28, 2021

7:41 PM
Mark as New

Bookmark

Subscribe

Email to a Friend
Refund status
Hello! I sent my taxes in the mail on April 11 and still have no update from the IRS. Please see the photo attached for the answer I got on May 17 when I last inquired about this problem. Since it's been over a month, do I still continue to wait or is there another course of action that needs to be taken?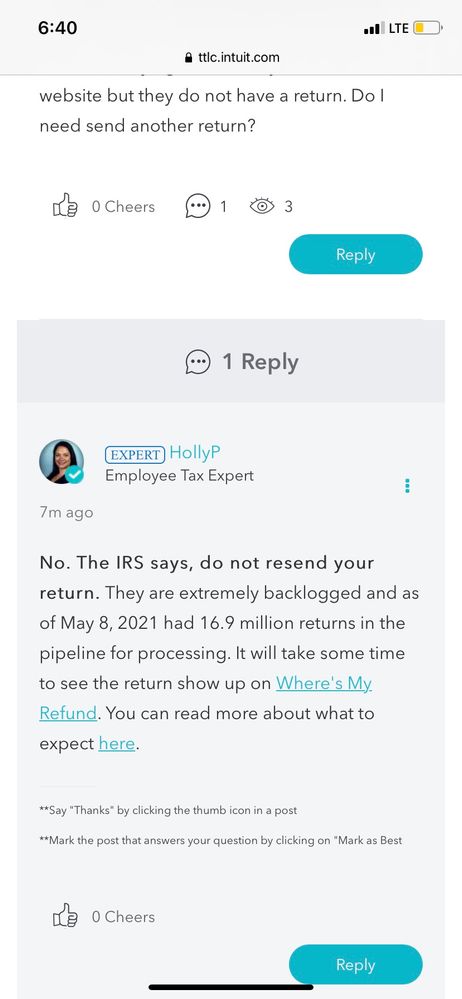 2 Replies

Returning Member
Mark as New

Bookmark

Subscribe

Email to a Friend
Refund status
When I look for an update on the IRS website, they do not even have a tax return that matches my information

Level 15
Mark as New

Bookmark

Subscribe

Email to a Friend
Refund status
MAILED RETURNS
Per the IRS:
COVID-19 Mail Processing Delays
It's taking us longer to process mailed documents including:
Paper tax returns, and
All tax return related correspondence.
We are processing all mail in the order we received it.
Do not file a second tax return or call the IRS.
It can take 3-4 weeks (or longer since the IRS is backlogged) for anything to show up on the IRS site when you mail a tax return. Expect at least 6-8 weeks for complete processing of a mailed return and probably MUCH longer.
If you mail a tax return (or a payment) to the IRS, it is a good idea to use a mailing service that will track it like UPS or certified mail so you will know it was received.
When you mail a tax return, you need to attach any documents showing tax withheld, such as your W-2's or any 1099's.
TurboTax will not know anything about your mailed return, and will continue to show "Ready to Mail" on your account. TurboTax will not know that you put your tax return in an envelope and took it to a mailbox. TurboTax does not get updates on mailed (or e-filed) returns.
When the IRS opens its mail and begins to process mailed returns you can check the status on the IRS site. https://www.irs.gov/refunds
State returns have to be mailed to the state.
https://ttlc.intuit.com/questions/1899433-how-do-i-track-my-state-refund
**Disclaimer: Every effort has been made to offer the most correct information possible. The poster disclaims any legal responsibility for the accuracy of the information that is contained in this post.**