How do I track my state refund?
[Español]
If you're looking for your federal (IRS) refund, go here instead.
To track your state refund
Each state handles its own refunds. Select yours below for refund tracking instructions.
Keep in mind that most dates are estimates and refunds can be delayed for many reasons. If you're concerned, please contact your state department of revenue at the links given.
State tax web pages may be slow to respond during tax season. If a link appears not to be working, try again during off-hours.
In order to help establish your identity, many states will ask for the exact amount of your expected refund in whole dollars. Here's how to find it in your version of TurboTax:
TurboTax Online
Sign in to TurboTax.
Select Take Me to My Return on the main screen. 
At the top of the screen, you'll see Federal Refund and State Refund with the status underneath.
TurboTax Mobile
Sign in to the TurboTax mobile app.
On the Welcome home screen, tap Tax Home.
Locate your state refund amount (you may need to scroll down).
TurboTax CD/Download
Open your return in the TurboTax program, and you'll see your state refund amount at the top.
If you e-filed, but your state website shows no record of your state return, you may not have actually transmitted it. Log into your TurboTax account and make sure your Tax Home page says Filed, and your Return Status says Accepted.  If it says Started instead, go here.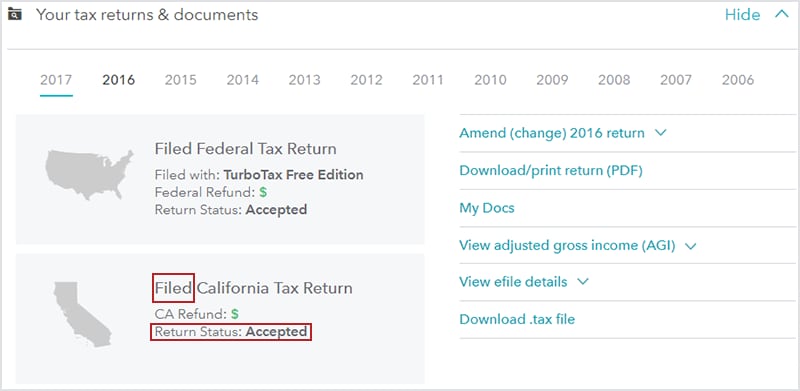 Why do you want to report this?