New Member
posted
last updated

‎August 10, 2021

3:49 PM
Letter from the IRS
I just got a letter from the IRS about a reported "deferral" of social security taxes.
Is this something Turbo Tax did behind the scenes?
I do not recall this and do not even know where to find it.
It appears they are saying I owe another $500+.
Any ideas that could help so I can find it for this year - and make sure it does not happen again next year??
2 Replies

Level 15

Level 15
Letter from the IRS
The CARES Act allows someone with self-employment income on their 2020 tax return to defer paying part of the Social Security tax that's included in the self-employment tax, if certain requirements are met. The deferral appears as a refundable credit on Schedule 3 line 12e. It was subtracted from the tax you had to pay with your tax return. Half the deferred tax is due December 31, 2021, and the remainder is due December 31, 2022.

TurboTax asked whether you wanted to defer the tax. See the screen shot below. If you clicked Yes it went on to calculate the maximum amount you could defer, and then asked you how much you wanted to defer.

This will not happen again next year because the deferral is only allowed for 2020.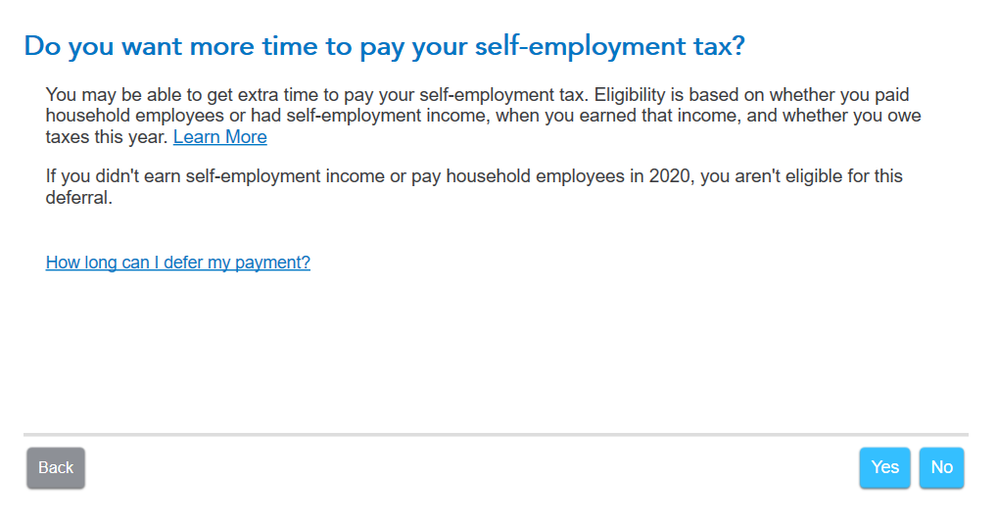 Found what you need?
Start my taxes
Already have an account? Sign In

(4.6/5 | 291,310 reviews)