Returning Member
posted
last updated

‎March 24, 2021

12:59 AM
Mark as New

Bookmark

Subscribe

Email to a Friend
2 Replies

Level 15
Mark as New

Bookmark

Subscribe

Email to a Friend
What is the difference between accepted and fully accepted?
There is not a "fully accepted" ----there is "accepted" and "approved" if that is what you mean.
https://ttlc.intuit.com/questions/2840013-does-accepted-mean-my-refund-is-approved
TurboTax gives you an estimated date for receiving your refund based on a 21 day average from your date of acceptance, but it can take longer. "21 days" is not a promise from TurboTax or the IRS. Many refunds are taking longer during the pandemic. The IRS is backlogged —-they are still trying to process millions of 2019 returns; they received millions of e-filed on the day they opened for 2020 returns, and now they are burdened with sending out another round of stimulus checks.
Some delays are resulting from incorrect amounts that folks entered for stimulus checks they received. Many people have been confused by the recovery rebate credit and completed it incorrectly. The IRS may delay your refund while they cross-check to see what you received.
First, check your e-file status to see if your return was accepted:
https://turbotax.intuit.com/tax-tools/efile-status-lookup/
Once your federal return has been accepted by the IRS, only the IRS has any control. TurboTax does not receive any updates from the IRS. Your ONLY source of information about your refund now is the IRS.
You need your filing status, your Social Security number and the exact amount (line 34of your 2020 Form 1040) of your federal refund to track your Federal refund:
To track your state refund:
https://ttlc.intuit.com/questions/1899433-how-do-i-track-my-state-refund
https://ttlc.intuit.com/questions/1901548-why-do-some-refunds-take-longer-than-others
If you chose to have your TurboTax fees deducted from your federal refund, that will take some extra time, while the third party bank handles the refund processing.
https://www.irs.gov/refunds/tax-season-refund-frequently-asked-questions
**Disclaimer: Every effort has been made to offer the most correct information possible. The poster disclaims any legal responsibility for the accuracy of the information that is contained in this post.**

Returning Member
Mark as New

Bookmark

Subscribe

Email to a Friend
What is the difference between accepted and fully accepted?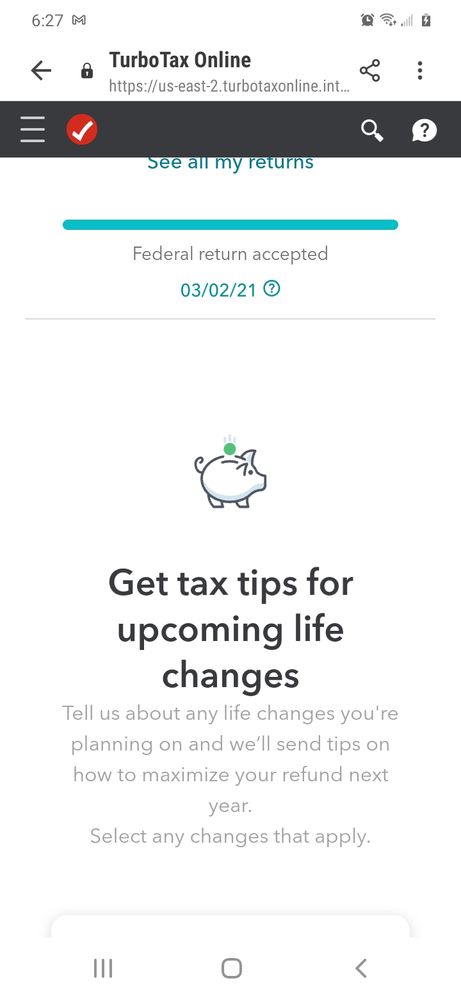 this bar right up there was only half way yesterday and was full to day and said fully accepted by irs