Level 2
posted
last updated

‎July 15, 2020

7:52 AM
Mark as New

Bookmark

Subscribe

Email to a Friend
TurboTax 2019 for Mac Keeps Crashing, Won't Open. FIX!
No need to re-install !
I was able to recreate this crash and fix several times. Other people have helped figure these out, I'm just consolidating them into one post. @webheads7 @kookla143 @pking1414 etc. Thanks!
There seems to be two different issues causing TTX Mac to crash.
A. TTX crashes immediately every time you try to launch the app. It only shows a little box for a split second.
And/Or,
B. TTX still opens but, crashes when you get to the State e-file payment page. Skip down to Part B
---------------------------
If you have problem A.
Open your User/Library folder.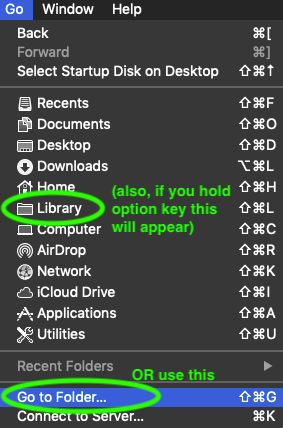 In the Finder when you click on the "Go" menu and Hold Option key you can click on Library.
Or, click on "Go to Folder" and in the box put "~/Library"
In the Library folder look for the "Preferences" folder. Open it.
In the Preferences folder look for file: "com.intuit.turbotax.2019.plist"
Throw that file in the Trash. Then reboot your Mac. (Shutdown/Restart)
After your Mac starts up you can open your TurboTax 2019 tax file. The file is normally saved in your Mac Documents folder. The file is probably named "Your Name 19.tax2019"
When TTX launches DO NOT CLICK anything until you read Part B next!...
--------------------------------
Part B
If you open TTX and see the "It looks like we hit a snag" box. Do NOT CLICK "send to TurboTax".
Click the little red close button in top left of box.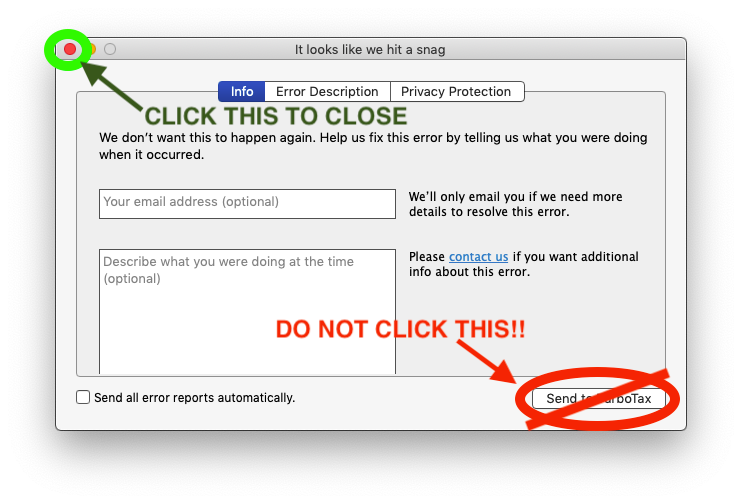 You might have other windows in front you need to close first like Check for Updates, Welcome, Register Later... Just make sure you DO NOT click "Send to TurboTax".
(If you did click "Send to TurboTax" and your it crashes, go back to Part A)
Now, if your tax file is open and you had a problem with E-File...
(As others have suggested) You might want to try to first E-File ONLY the Federal return without the State. It maybe safer to just get the Fed filing out of the way since it doesn't need a payment. The payment section is often what is causing the crash.
If you got the Federal E-File done you can go back to your File a Return section of TTX and do just the State E-File.
If you already entered your payment for State E-file you should see the "We've restored all products..."
Do NOT CLICK the big blue "Close" button.
Click the little white "Close" button in bottom right corner.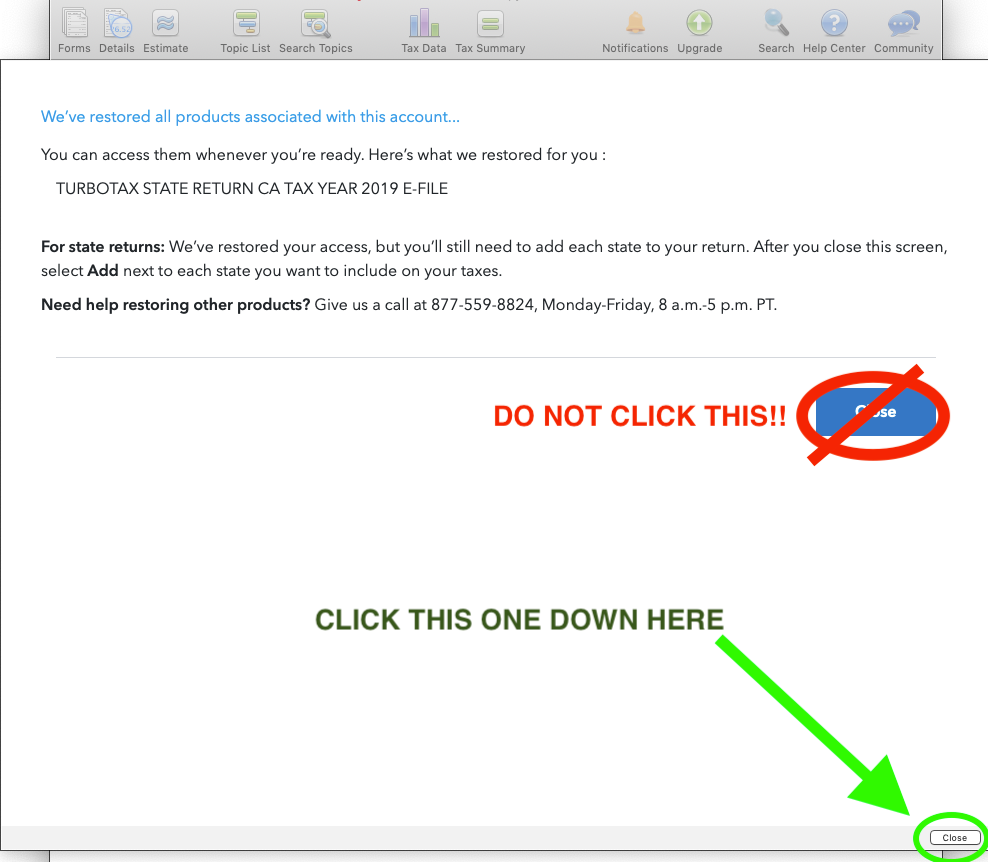 If you get past this screen you should be able to Transmit your State E-File.
Thanks to all the other people who found these work arounds. I just added some screenshots.
@webheads7 @kookla143 @pking1414 etc. Thanks!
Hope this works for some people.
To Intuit, People were reporting these problems in Feb.
It's now July. Please fix your bugs in a timely manner.
1 Reply

Level 1
Mark as New

Bookmark

Subscribe

Email to a Friend
TurboTax 2019 for Mac Keeps Crashing, Won't Open. FIX!
Amen! removing that string in the library worked. I was able to download the updates and open the app. Finally.