Level 2
posted
last updated

‎April 06, 2021

10:52 AM
Mark as New

Bookmark

Subscribe

Email to a Friend
How do I handle fully depreciated equipment with 1120S final return?
Do I need to report form 4562 as shown here with the 1120S final return and if so; how? Is section-179-recapture affecting me?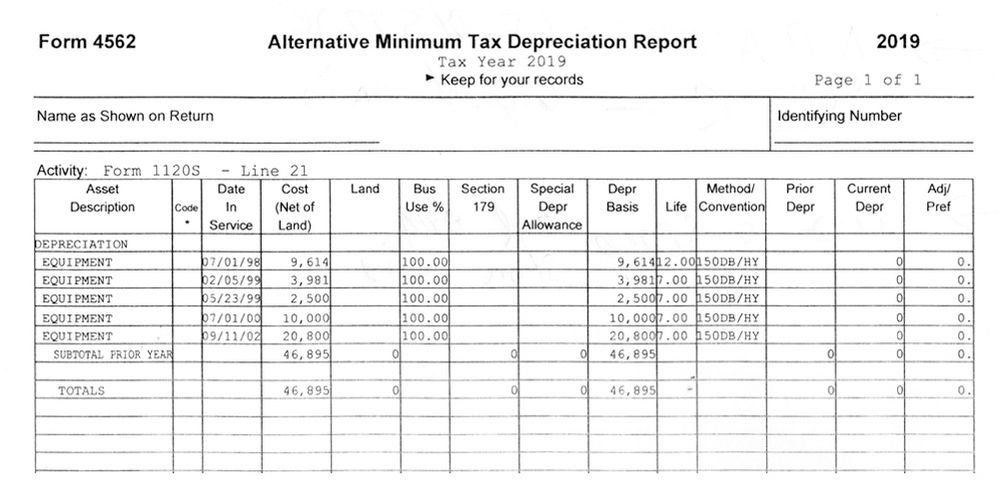 1 Best answer

Level 15
Mark as New

Bookmark

Subscribe

Email to a Friend
How do I handle fully depreciated equipment with 1120S final return?
you gave us the AMT 4562, not the regular 4564 depreciation report. anyway, there would be no 179 recapture because they have reached the end of their depreciable life. the info you did not supply. do these assets have any value and what are you going to do with them. if no value to get rid of them show them sold for $0.
to summarize what the tax laws say is that distribution of assets to a stockholder in complete liquidation are deemed sold to him at Fair Market Value. the "sale" is reported on the S Corp return.
the gain realized increases the shareholder's tax basis in the Corp while the bais is reduced for the FMV of the distributed assets, other assets distributed that have the same tax basis and FMV like cash further reduce tax basis in the corp. if there's tax basis remaining you have a capital loss, if tax basis goes negative you have a capital gain.
in most situations, if the Corp was always an S-Corp and the proper accounting was done along the way you should end up with zero tax basis.
In general, pursuant to I.R.C. §336, gain or loss is recognized to a liquidating corporation upon the distribution of property in complete liquidation as if the property were being sold to the distributee at its fair market value. If the shareholder's stock basis is large enough, the corporation can liquidate and incur no tax liability because the shareholder's stock basis will not be depleted, only reduced, in the liquidating distributions.
After all assets have been distributed, if the shareholder's stock basis is more than $0, there will be a capital loss in the amount by which the stock basis exceeds $0, and that loss can be used to offset any capital gains incurred in other distributions. However, if the stock basis is depleted before the corporation distributes all of its assets, then any subsequent distributions will result in taxable gain to the extent there is gain recognized in those subsequent distributions.
5 Replies