New Member
posted
last updated

‎April 14, 2020

6:07 PM
Sales Tax
How do I switch between sales tax deduction types?__I cannot change to state/local paid__TurboTax entered sales tax instead of state/local tax paid_$7xx vs $1,xxx_
Sales Tax choice in the Estimate and other taxes paid section will not let me change to State and Local income tax choice. Will only do estimated sales tax.
How do I change to Sate and local tax?
2 Replies

Employee Tax Expert
Sales Tax
TurboTax should default to the higher deduction, but you can change it. Keep in mind for tax years 2018 through 2025, the SALT deduction (which includes sales tax) is capped at $10,000. That means if the combined total of your sales tax, real estate tax, and personal property tax amounts to $15,000, you can only deduct $10,000 maximum. You can look at your Schedule A to see the deduction amounts.
Which deduction should I choose, state and local income tax or sales tax?
If you would like to change it, you can switch at the end of the Sales Tax interview in the Estimates and Other Taxes paid section. After you enter all of your sales tax information, you will come to a screen that says ''We've Chosen a Deduction For You''. There will be a box underneath the amount of your deduction that says ''Change your deduction''. If you mark that box, TurboTax will update your deduction on Schedule A. Make sure you are taking the larger deduction and don't forget about the SALT limits.
The screen below can be found in either the online or desktop products.
**Say "Thanks" by clicking the thumb icon in a post
**Mark the post that answers your question by clicking on "Mark as Best Answer"

New Member
Sales Tax
Hi Dawn,
Thanks for your help.
Here is what I get.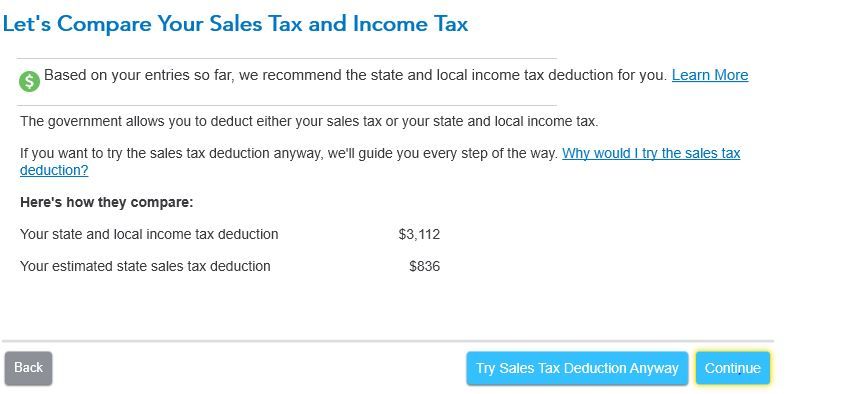 It tells me it I get the state and local income tax deduction with no choice to select.
When I click continue, it takes me back to the Estimates and other taxes paid and there is no value in the Sales Tax. Why does it not populate the sales tax with 3,112?

Found what you need?
Start my taxes
Already have an account? Sign In

(4.6/5 | 291,310 reviews)