New Member
posted
last updated

‎March 11, 2021

3:04 PM
Mark as New

Bookmark

Subscribe

Email to a Friend
Definition of fence for Deductions
Are portable livestock panels classified as a fence for deduction purposes? The panels aren't permanent, but can be moved around and used in different locations.
3 Replies

Expert Alumni
Mark as New

Bookmark

Subscribe

Email to a Friend
Definition of fence for Deductions
Yes. Per @GeoffreyG
Your answer would be that how you treat the fence for tax purposes (asset / expense) depends on your continued ownership rights in the fence (or your lack thereof).
Typically, when something in the nature of a permanent fence is installed, it becomes an improvement to the land (like a building or driveway), and is therefore owned by that landowner, as the fence cannot be easily removed and simply transported to another location -- like can farm equipment or portable electric generators, for example.
However, in the case of, say, a contractor who installed the fence and hadn't been paid, and who also had lien rights to the fence until such time as they are paid, this could be classified as a short-term asset (not subject to depreciation) on their financial books.
Similarly, if you installed a fence on a neighbor's property, with their full consent, and they signed some sort of contract or other legal agreement with you that the fence still belongs to you, then this would become a business asset to be capitalized, and depreciated (or to take the Section 179 expensing election). Alternatively, if depreciated and depreciated, fences are considered 7-year MACRS property for tax purposes.
In the absence of any of that, though, it would seem clear that the fence would be legitimately classified as a business expense, if you no longer retain ownership rights to it (and because it is "attached," literally, to land belonging to someone else).
Livestock panels are a heavy gauge galvanized welded wire fencing material. They are also commonly called "cattle","hog", or "sheep" panels. They are almost a must have on any new farm or homestead.

New Member
Mark as New

Bookmark

Subscribe

Email to a Friend
Definition of fence for Deductions
I think we're talking about two different types of livestock panels. I've added a picture this time of what I'm referring to. It is a portable panel designed to be attached together or to something else for temporary use in a location. Then separated and moved to another location/spot. The panels you referenced are used more for permanent enclosures. Because it isn't designed to be permanent, my thoughts are that it would more likely be depreciated in a shorter term than a fence or permanent-type enclosure.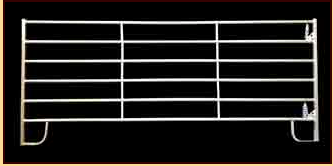 Portable Livestock Panel Expert Alumni
Mark as New

Bookmark

Subscribe

Email to a Friend
Definition of fence for Deductions
Yes, I have researched several areas and I find no reason where you are unable to claim portable livestock panels as depreciable asset. Assuming if you have a farm,
Report this as a farm asset

Enter this as Farm Equipment, Animals, and Agriculture. Agricultural fences are listed in this category.

Next screen enter farm equipment.

Next screen enter this as Portable Livestock Gate. Enter the information regarding the gate.

Continue answering the questions until you have completed the section.
Keep in mind, this is a movable structure that can be moved anywhere on your property and because of it's portability, it is essentially a piece of farm equipment.
[Edited 03-14-2021|08:17 PM PST]
**Say "Thanks" by clicking the thumb icon in a post
**Mark the post that answers your question by clicking on "Mark as Best Answer"