Highlighted

New Member
posted
last updated

‎April 03, 2020

6:33 AM
Mark as New

Bookmark

Subscribe

Email to a Friend
Different status on turbotax and its (where's my refund?)

so it says that my e-file was accepted according to the turbotax website (as shown in the picture above)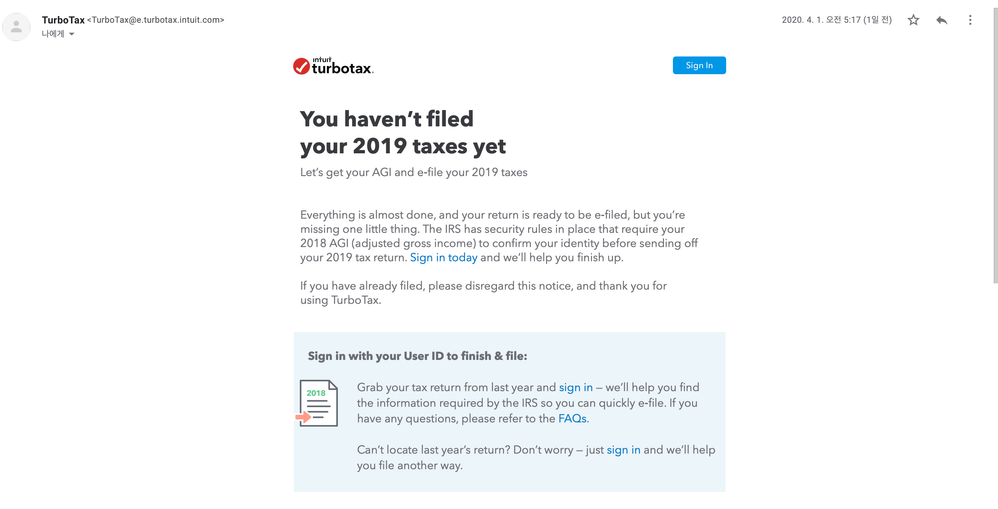 but then I received this email, and since I've never filed 2018 tax return, I can't fill out the AGI from 2018 tax return form. After I received this email, I got confused and wondered if this means that my tax return has been accepted successfully or not, even though it says that it's been accepted on the turbotax website.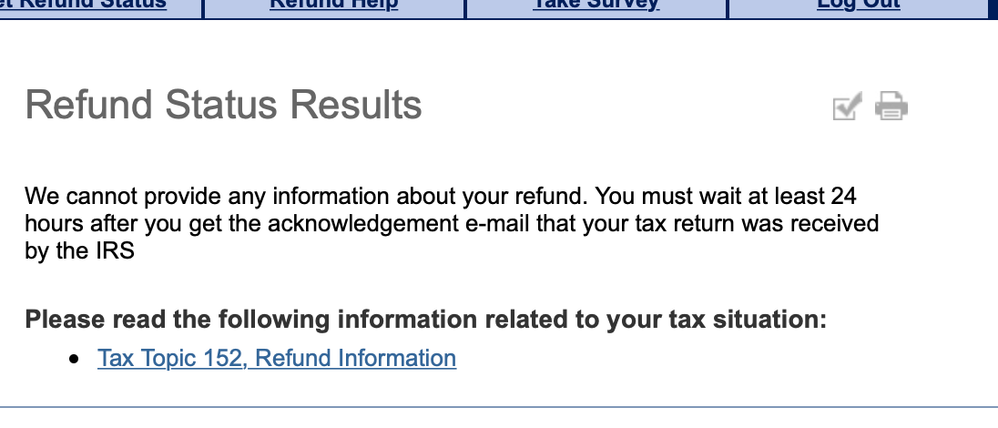 so then I used "where's my refund" on IRS to check my refund status and it says thatchy can't provide any information about my refund. Since it's been more than 4 days since I filed it, does this mean that my tax return has been submitted like what it says on turbo tax, or does it mean that it's not been submitted because of the reason shown in the email?
2 Replies
Highlighted

Expert Alumni
Mark as New

Bookmark

Subscribe

Email to a Friend
Different status on turbotax and its (where's my refund?)
You can verify if you have successfully e-filed through the following link.
If you have not successfully e-filed, go into your tax return to see if it was rejected.
**Say "Thanks" by clicking the thumb icon in a post
**Mark the post that answers your question by clicking on "Mark as Best Answer"
Highlighted

Level 15
Mark as New

Bookmark

Subscribe

Email to a Friend
Different status on turbotax and its (where's my refund?)
You might have got that email for another account so you can ignore it. That's common to end up with multiple accounts. First LOG OUT of whatever TurboTax account you're logged into right now. Then use this TurboTax account recovery website to get a list of user ID's for an email address. Run the tool against any email addresses you may have used
https://myturbotax.intuit.com/account-recovery/