Returning Member
posted
last updated

‎March 11, 2020

1:51 PM
Mark as New

Bookmark

Subscribe

Email to a Friend
Tax return questions
Hi, I have more than a few questions with regards to things I encountered last weekend while trying to finish my tax return on Turbotax. I would much prefer an accountant answering these.
1.) I just closed an S-Corporation I had. There is an item on TT called "Describe S corporation Disposal." Do I answer "I disposed of it, but not by selling it" or "None of the Above?" I did not sell my S-corp by the way.
2.) The second one I need clarification on is this: "Did you materially participate in this S corporation's business activities during 2019? If you did, you may be able to avoid passive activity rules" I am actually a full time employee for a company and had zero activity in my S-corp for 2019. Did I still materially participate?
3.) My old CPA did $470 worth of tax prep work last year. Can I not use that as a deduction anymore?
4.) My next question is just easier by including a screen shot. What would be the correct way to answer? (I'm hoping you can click and expand this)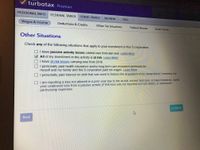 Thank you for your help. It is much appreciated!
7 Replies