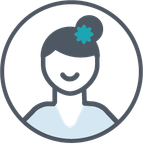 New Member
Activity Feed for lindalee0
Is a 1099-R with the the word "revised" typed at the top the same as a "corrected" 1099-R? Should I check the "corrected" box in Turbotax when entering the information since there is no option to add the word "revised" or should I pressure the administrator to send me a new 1099-R that has the "corrected" box checked?
... View more
I contributed the maximum to my Roth 401k ($24,500) and Roth 457 ($24,500) plans. The first time through I passed the error check. Then I had to file an amended form. When I conducted error check the second time, Turbotax flagged box 12b and 12c on the w-2 summary. The error message says: Elective deferrals - TP $49000 is more than the allowed $24500 for a 401k plan. I cannot clear the error.
... View more
Fidelity reported my back door Roth as distribution code 7 because I am over 59 1/2, but the distribution was not counted as taxable income. The taxes are corrected in the deductions section of Turbotax. I forgot this and freaked out, so I specified in the supporting form that the money was already taxed, which is handled in the deductions section.
... View more