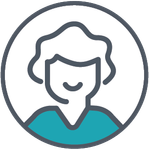 Level 2
I'm attempting to e-file the final personal tax return for my deceased father. The return includes Form 1310 to notify IRS I am the personal representative. TurboTax & IRS ask for some identifiers for signing. 1. Prior year AGI - I'm guessing that's Dad's info? 2. e-filing PIN - I'm guessing that's Dad's info? 3. Date of Birth - I'm guessing that's Dad's info? (I tried to submit with my PIN & DOB and it was rejected on birthdate) With personal representative signing, it seems odd to request Dad's PIN and DOB. 4. Turbotax recognizes my Form 1310 and asks for today's date. 5. Driver's License Info? Who's ID is IRS trying to verify? Is this Dad's DL or mine? From my perspective, the personal representative is signing the return. I thought that the PIN, DOB & DL would be for the signature party. The rejected return tells me the DOB is dad's. Are they requesting Dad's DL as well? Thanks for any clarity you can provide.
... View more
Reviewing Publication 559 (Survivors, Executors & Administrators) communicates that the requirement for filing Form 1041 is waived if the estate has less than $600 of income. My question arises around the timing of the transfer of a financial account to a beneficiary. In any death & transfer process I can imagine, there is lag time between the date of death and transfer of funds or an account to a beneficiary. So if it takes two months before the broker/banker transfers the account directly to a beneficiary, how is the interim period treated? My follow-on question relates to an executor's obligation to file K-1's for each beneficiary. If the estate has less than the $600 of income the Form 1041 is not required. The K-1's seem to be a component of the Form 1041 filing. If the estate doesn't meet the Form 1041 filing threshold, is the executor still required to file K-1's?
... View more
Thanks martinmarks1919. Important lesson for my own tax planning....need to use it or lose it!
... View more
I recently inherited an interest in a publicly-traded MLP. The asset had accrued passive losses carried over from prior years. Upon death, the units were transferred (not sold) into my account. What happens to the passive losses? For my deceased dad's account, he never sold the units so the passive losses don't appear to be captured there. For my account, I'm thinking my basis in the investment is simply the unit count times the unit price on the day of his death. Do passive losses evaporate upon death?
... View more