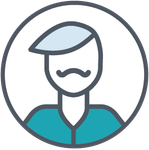 New Member
That is exactly what I was looking to do, but wanted to make sure I didn't over contribute. Thank you again for your help.
... View more
Awesome. I am assuming the other income adjustments do not matter than for the Roth ira contribution. Just the portion for self employment tax and self-employed retirement deduction. Is that right? Thank you for your help.
... View more
I had low w/ both my gross & net income being less than $5,500 last year. I am now trying to determine my max amount for a Roth contribution for 2018. I think my limit would be my net profit from my contracting business. However, I think I could be wrong and it might be taxable income (line 10 on 1040) or possibly something else. Can anyone confirm or correct me? Thank you.
... View more