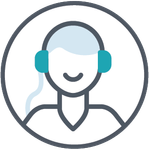 New Member
Activity Feed for sarcoguy
I submitted my federal return electronically and it's been accepted by the IRS. I would like to submit my state return by mail. When I'm in the 'File' tab, the only two options I have under "Indiana" are: E-file my state return now Do not e-file my state return now, I'll do it later. Shouldn't there be a third option, to print my state return and mail it in? Or do I just print off of the pdf I made as a backup copy and mail that into the state?
... View more
I had new windows installed in my house. I'd like to claim a tax credit. I paid a downpayment (half) in 2018 and they were installed and I finished the last payment in 2019. Do I claim any credits for 2018 or would it all be for 2019?
... View more
I live in Indiana and my primary employer is in Indiana. I have a small amount of income from a part time job in Michigan. In years past I only submitted my Indiana return because I thought Indiana and Michigan were reciprocal states. Do I need to file a second state return for Michigan or can I just do my Indiana return?
... View more