Level 5
posted
‎September 6, 2018
11:19 AM
last updated

‎September 06, 2018

11:30 AM
Mark as New

Bookmark

Subscribe

Email to a Friend
How the New Tax Reform Law Changed 529 Education Plans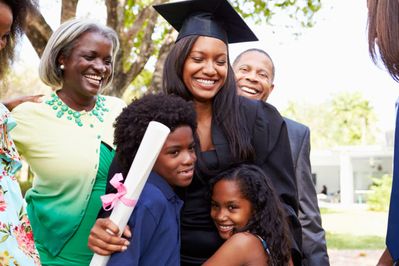 Among the many changes resulting from the recently passed tax reform law, benefits under 529 plans have been expanded for 2018 and subsequent years.
The new provision in the tax reform law will be a benefit particularly for parents of children in elementary and high school, as the new law expands the use of the plan into these education levels. Here are the basics and what has changed:
529 Education Plans – The Basics
529 plans have traditionally been offered to help families save for their children's college educations. They're similar to Roth IRAs, in that while contributions to the plan are not tax-deductible, investments held within the plan accumulate on a tax-free basis. The funds can continue to build up, taking advantage of tax-free compounding, until they are withdrawn.
Once they are withdrawn, they can be taken tax-free, as long as they are used to pay for qualified higher education expenses. This can include basic tuition, fees, books, room and board, and any computer equipment or software required as part of the course of study.
529 Changes with the New Tax Law
Under the new tax law passed in December 2017, there have been a few changes to the 529 plan, and they generally run in favor of the taxpayer. While under previous tax law, the benefits of 529 plans were limited to a college education only, the new law expands their use.
Parents can now use the 529 plan to pay for their children's education at private elementary and high schools.
This was a benefit previously provided only by Coverdell Education Savings Accounts (ESA). The 529 plan is now available to parents of younger children in private schools. This will expand the options parents have to educate their children since they will see some tax benefit if they chose to send their kids to private school.
529 Plan Benefits Can Be More Generous Than the Coverdell ESA
The Coverdell ESA is limited in the benefits that it provides. For example, you must meet certain income limits to qualify. Individuals must earn no more than $110,000 per year, and couples filing jointly cannot exceed $220,000 per year. There are no income limits for the 529 plan.
The Coverdell ESA has a very small contribution limit of $2,000 per student. The 529 plan actually has no contribution limit, though most parents cap annual contributions at $15,000 per year, so as not to incur the federal gift tax.
Under the Coverdell ESA, contributions can no longer continue once the child beneficiary attains the age of 18. There is no such contribution limit with 529 plans. That means the same plan used to fund elementary and high school education can also be used for college, through continued contributions. Also, 529 plans do not require a withdrawal of plan funds by any certain age. Under the Coverdell ESA, withdrawals must be completed by age 30.
If you have a Coverdell ESA, and want to move it into a 529 plan, you can do so with no tax consequences.
Rollovers of 529 Plans into ABLE 529 Plans
In 2014, ABLE accounts were established to help Americans living with disabilities save for their children's educations. They were created so that people with disabled kids trying to accumulate funds for education wouldn't be penalized since disability income rules set strict limits on how much money a person can have in savings, and still be eligible for disability income.
ABLE plans have the same benefits as 529 plans, including tax-free investment growth and tax-free withdrawals when funds are used to pay for qualified education expenses. But they can even be used for job training, healthcare, and other expenses.
Under the new tax law, existing 529 plans can be rolled over into ABLE 529 plans. This might be a consideration if a regular 529 plan was established before a child became disabled. As a result, families collecting disability will not lose their eligibility because of 529 education savings.
What to Watch Out for with New 529 Rules
Distributions taken from a 529 plan to cover qualified education expenses are limited to $10,000 per year for elementary and high school education.
Also, the main benefit of a 529 plan is a tax-free accumulation of investment income. Since funds needed for elementary and high school education happen much sooner than college, there will be less time for the plan to build up value. A plan started at birth may require withdrawals beginning as early as age five.
On the investing side, you usually don't have complete flexibility with where and how you will invest the money. You generally have to use your home state's plan for investment purposes. The upside is that some states also offer either a tax deduction or a credit for contributions to a 529 plan.
Don't worry about knowing these tax rules. TurboTax has you covered and will ask you simple questions and give you the tax deductions and credits you're eligible for. If you have questions at tax-time, you can connect live via one-way video to a TurboTax Live CPA or Enrolled Agent to get your tax questions answered. A TurboTax Live CPA or Enrolled Agent can also review, sign, and file your tax return.
/ Jim Wang