How do I save my 2017 TurboTax Online return as a tax data file?
(For information on how to access your 2016 return, go here instead)
Saving your tax file is optional. However, we recommend that you take a few seconds to do this, as your tax data file may come in handy after TurboTax Online shuts down, in case you need to amend your return after October.
To download your 2017 TurboTax Online return as a tax data file (filename extension .tax2017) follow these steps:
If you're not already, sign in to your online return and choose Take me to my return.
Select the Tax Tools menu on the left menu bar then select Tools.
In the pop-up Tools Center window, select Save your return to your computer.
The file will automatically be downloaded to your default downloads folder or you will be prompted to direct where to save your file.
Change the default filename (taxReturn) to something recognizable, for example J Doe 2017 Tax Return before you Save.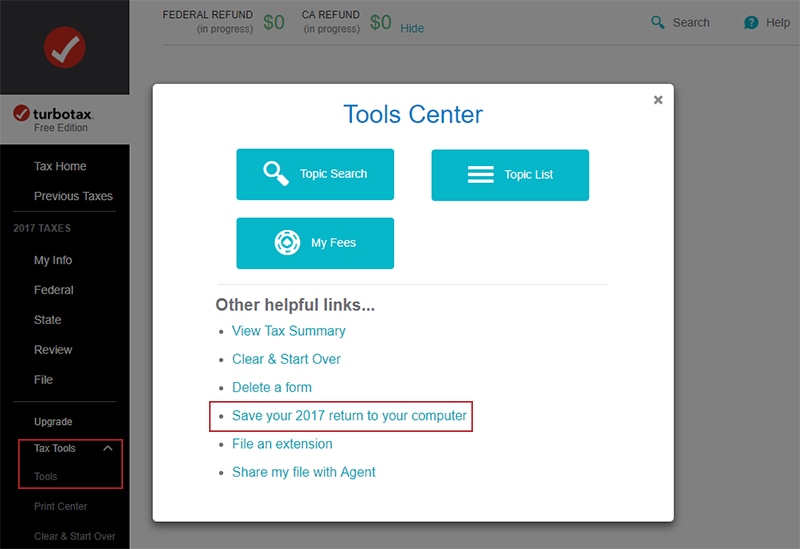 If you have already filed your 2017 return, your tax data file will be accessible on your Tax Home page after you sign in under Your tax returns & documents: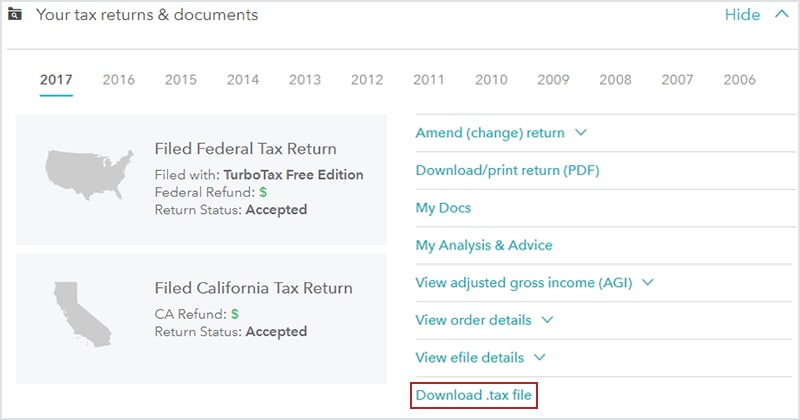 Your online return has now been saved in a format can be opened in the TurboTax software.
If you make any changes to your Online return after saving your tax data file, repeat these steps to ensure that your tax file stays synched-up with your online tax return.
Important: this file is not like a PDF, and can ONLY be opened in the TurboTax CD/Download software you install on your Mac or PC.
GEN85507
Why do you want to report this?