Rights (also known as privileges) determine the tasks users can perform on a computer. Windows 7, 8, and 10 has two types of users: standard users and administrators. Some tasks (like installing and updating software) require administrator rights.
If TurboTax needs administrator rights are required, we'll request permission. If your operating system's User Account Control is turned off, permission is granted automatically.
To determine whether you already have administrator rights, select Start (On Windows 8, right-click on the lower right corner of your screen) and open the Control Panel.
Once you're in Control Panel, select Classic View from the drop-down in the upper-right if not already selected, and open User Accounts.
You should see all user accounts listed. If the account you are currently logged into has administrator rights, it should be listed as such under your username and/or the option Manage User Accounts will be available.
Once you have verified that you have administrator rights, make sure TurboTax is running at an administrator level. To do so, right-click the TurboTax icon on your desktop, and select Properties. Choose the compatibility tab and check the box next to Run as Administrator.
If you're having difficulties installing TurboTax and you believe it may be related to permissions, you can run the Setup.exe file at an administrator level like described for the TurboTax application above.
On the Windows taskbar, select Start, and then select Log Off.
Sign in as the computer administrator (or as a user with administrative rights).
Note: If you can't sign in to the computer as administrator, ask a user who has administrator rights for assistance. For more information, see your Windows Help.
Close TurboTax if it's open (be sure to select Save when prompted).
Right-click the TurboTax icon.
Choose Run as administrator.
If Run as administrator is not available, select Properties.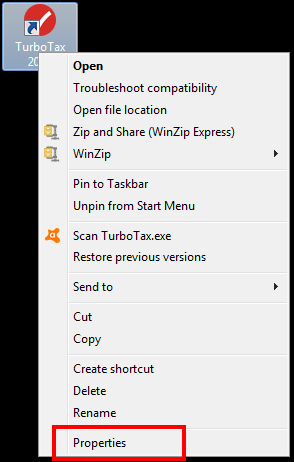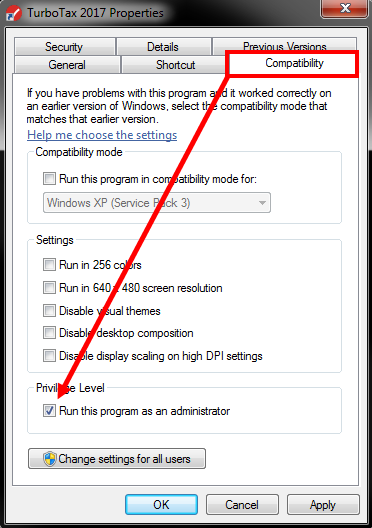 Check Run this program as administrator.
Select Apply.
Select OK.