Community Manager
‎September 15, 2020
4:31 PM
Mark as New

Bookmark

Subscribe

Email to a Friend
Community Chatter: Share your workspace!
In our first Community Chatter installment, we shared some of our work from home hacks, and this week we are conducting tours of our workspaces!

With so much to juggle, it's more important than ever to have a dedicated work space that is relatively free from distractions, so that you can focus and be productive. It's even better if your space is comfortable and quiet, but as this year has shown time and again, sometimes it's all about being adaptable and using what you have to create what you need.
There is no "one true way" to set up your work from home space. Someone who lives alone in a studio apartment will have different challenges than the mother of four living in a 3 bedroom house. As you'll see below (and on the QuickBooks and Intuit Accountants communities) our workspaces vary as much as we do!
Join the conversation and share your workspace
++++++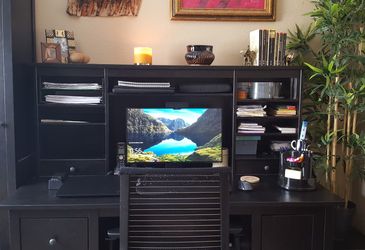 "Spending a lot of time at home over the last six months has given me the opportunity to tackle several different home projects, one of which is adding the finishing touches to my home office. Drawing inspiration from Marie Kondo and Clea and Joanna from The Home Edit, I've worked to minimize, organize, and beautify!
My desk was already in place, so I ordered a new monitor and webcam along with a wireless ergonomic keyboard and mouse to cover the technological bases.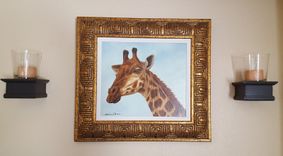 I've really focused on ensuring that this space is somewhere that I love spending time. My office is safari themed, with mementos from an amazing trip I took to East Africa a few years back, so I feel happy just being here. I've also got all the necessary creature comforts: a comfortable chair, a lap "blankie," continuous access to coffee, and a fabulous scented candle."
~Katie, Community Manager
++++++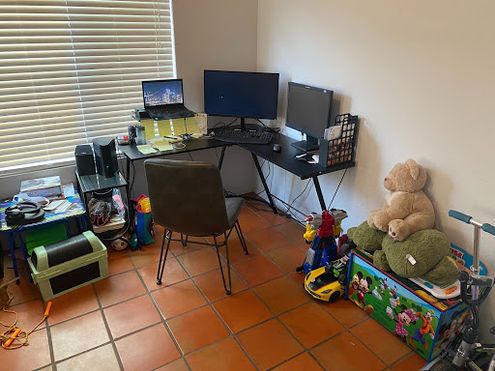 "Working from home with three little ones has been an adjustment, but one of the biggest ones that I had to overcome was creating a dedicated workspace! Before the pandemic my home workspace was usually the kitchen table, but I soon realized that long hours spent there was simply not feasible, and I needed to find something that was more accommodating to my needs. My son was not too happy when I informed him that I would be commandeering a portion of his playroom as part of my new home office!
I have grown to love my office/playroom set up, and one of my favorite things is when my son takes his imaginary meetings at the same time as me. Plus having the occasional toy laying around gives me something fiddle with has proven to be quite handy during certain periods of the day."
~Raph, Community Engagement Manager
++++++
"Here is my workspace! Organized chaos, perhaps. I moved the couch into my bedroom to elongate my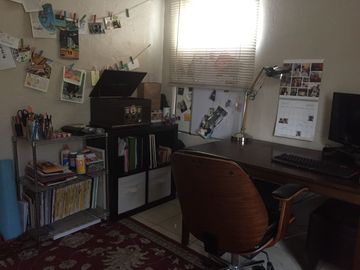 desk area. Besides, I'm not "resting" in this living room anymore. (That table used to be in the corner).

Since I've been spending a lot of time at home, I started collaging more frequently. I decided to highlight my supplies and clippings around my desk when I reorganized. This, combined with some personal photos and sentimental knick-knacks, keeps my eyes full when I'm needing inspiration. "
~Gabi, Community Engagement Lead
++++++
Now it's YOUR turn! Tell us about your workspace and feel free to share a quick pic. We want to see what you have done, and maybe steal a few ideas for our own spaces. 😉
Looking for more work-from-home tips? Take a look at other Intuit articles about working remotely:
**Say "Thanks" by clicking the thumb icon in a post
**Mark the post that answers your question by clicking on "Mark as Best Answer"
This widget could not be displayed.