We automatically select the deduction that gives you the best outcome on your federal taxes. Most 2019 federal tax filers will be better off with the standard deduction versus the itemized deduction.
In TurboTax, you can always switch to a different deduction. However, if you and your spouse are filing separate federal returns, both of you must take the same deduction per IRS rules.
Tip: It's best to hold off on switching until after you've finished going through the Deductions & Credits section. That way you can get an accurate picture of how both deductions affect your bottom line. Also, keep in mind that switching to the other federal deduction may impact your state tax return.
With your tax return open, select Federal from the navigation menu on the left (if you're doing this on a mobile device, you'll probably need to scroll down).
Now select Deductions & Credits near the top of your screen.
Proceed through the screens, answering questions as necessary. Eventually you'll come to the screen Based on what you just told us, the Standard Deduction is best for you or Based on what you just told us, itemizing deductions is best for you.
On that screen, pictured below, select Change my deduction. You'll get a pop-up showing how much each deduction is worth.
From here, you can either change your deduction by selecting it and continuing forward or cancel out.

Please note that if you're switching to the itemized deduction from Free Edition, you'll need to upgrade to Deluxe, as Free Edition doesn't handle Schedule A.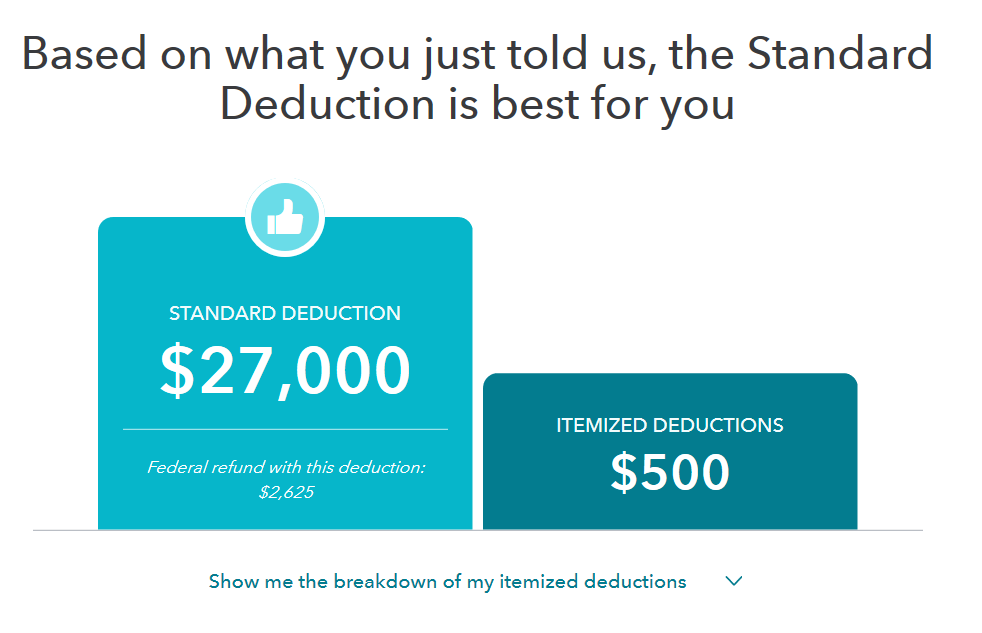 The numbers on your screen may vary
With your return open, click Federal Taxes tab near the top (in the Home & Business version, click Personal).
Now click Deductions & Credits below the tabs.
When asked how you want to enter your deductions and credits, click the button on the right, I'll choose what I work on.
Scroll all the way to the bottom of the Your 2019 Deductions & Credits screen and click Done with Deductions.
Continue through the interview until you see The Standard [or Itemized] Deduction is Right for You!
On that screen (pictured below), check the box Change my deduction to see the dollar amount for each deduction.
Click Continue to apply any changes.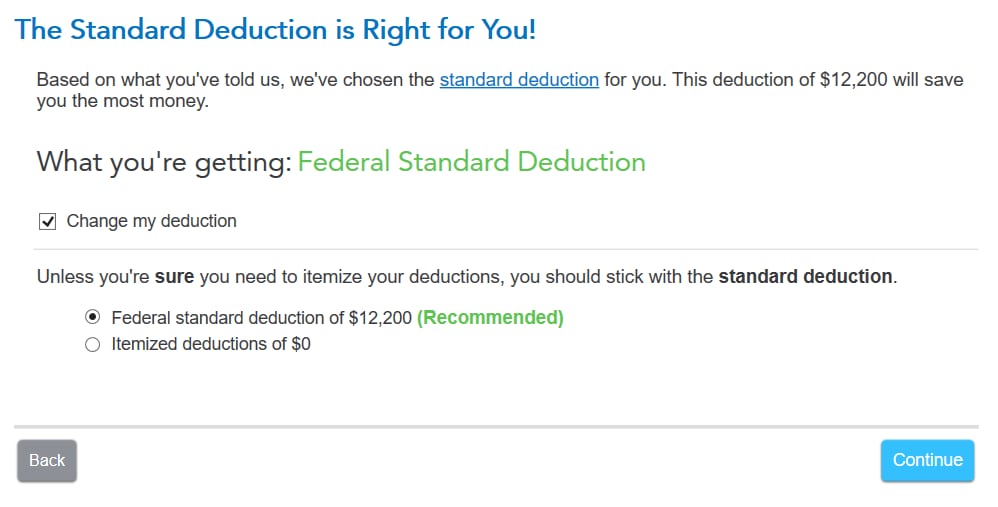 The numbers on your screen may vary
Many – but not all – states let you take a different deduction than what you took on the federal. For example, Arizona lets you itemize even if you took the federal standard deduction.
There is no one-size-fits-all set of instructions for how to change your state deduction, so it's best to walk through your state tax program from the beginning. Look for a screen that asks which deduction you want to take, assuming your state gives you that option. The exact placement of this screen varies by state program, but most likely you'll find it at the beginning of the interview or just before you get to the deductions section.