Community Manager
Student Debt Relief Plan: Am I impacted?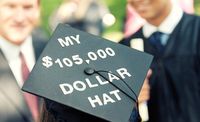 On August 24, 2022, President Biden, Vice President Harris, and the U.S. Department of Education announced announced a three part student loan debt relief plan to help federal student loan borrowers following the pandemic. The three part plan includes an extension of the pause on student loan payments, debt cancellation, and proposal to create an income-driven repayment plan to help lower future monthly payments.

Here are some resources to help you understand the provisions within the plan that can might affect you:
If you have any questions that aren't answered in the links above, you can ask in our Education forum, where our Experts will be on hand to help.
**Say "Thanks" by clicking the thumb icon in a post
**Mark the post that answers your question by clicking on "Mark as Best Answer"