When items are purchased for a business, a decision is made whether it's an expense that you deduct all of the cost now, or you deduct the cost over multiple years (depreciation).
There are two elections you can make. One is used to deduct items with a cost of $2,500 or less instead of depreciating. The second election deals with deducting improvements to business buildings.
These elections are available for Schedule C businesses, rentals, farms, and farm rentals.
Items that cost $2,500 or less can be taken as an expense this year and don't have to be depreciated over time. To do this, an annual election must be made. It's called the De Minimis Safe Harbor election.
How do I do this with TurboTax?
After entering your business expenses, you will go to the Assets/Depreciation area. The first screen will ask: Did you buy any items that each cost $2,500 or less in 2020? It's asking about any items that you haven't entered yet as expenses.
If you say Yes, here's the next screen: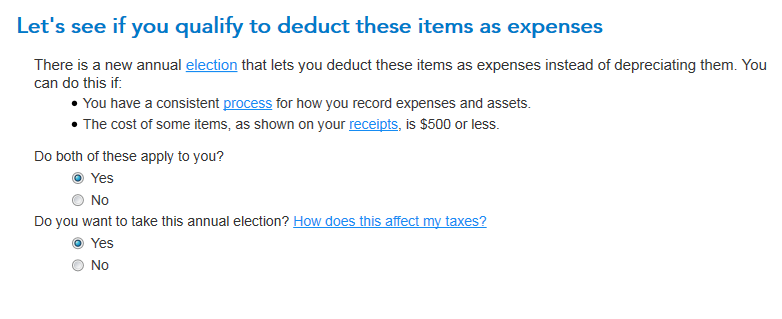 We ask a couple of questions and if you say Yes they both apply to you, we ask if you want to take the election to expense items costing $2,500 or less. If you say Yes to that question, TurboTax will add the De Minimis Safe Harbor Election form to your tax return.
The next screen in TurboTax has you review other items you bought. If every item you bought cost $2,500 or less, TurboTax will take you back to Your Business screen and you can enter those additional items in the Business Expenses area and not have to depreciate them.
If some items cost $2,500 or less and some cost more, the next screen asks you about Building Improvements. After answering the questions about Building Improvements, you can determine which items you will still depreciate and which items you choose to expense.
You can elect to expense the cost of building improvements under certain circumstances. TurboTax will ask you "Did you make improvements to a building you used for this business in 2020?" If you say Yes, you'll see this screen:.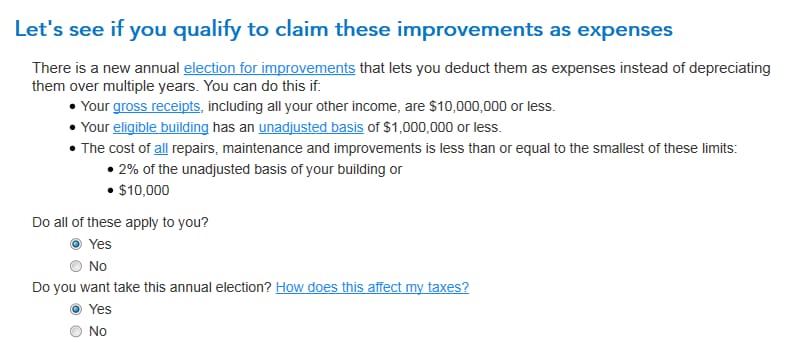 It will ask you various questions and if they all apply to you, you can decide to take the annual election to write off these expenses this year instead of depreciating over a number of years.
If you say Yes to the election, the next screen will ask you to describe the building you made improvements on.
We will then add the Safe Harbor Election for Small Taxpayers (Section 1.263(a)-3(h)) form to your tax return with the description of your property.
It lets you deduct your items as expenses instead of depreciating them over the life of the item. Expenses typically reduce your income by a larger amount than depreciating as an asset over a number of months or years. This means you could get a bigger refund.
If you take this election, it will apply to all your businesses, rental properties, or farms.