There are three steps to signing up for a Credit Karma account:
Enter a unique email address and strong password
Fill in your personal information
Answer some questions for verification purposes

If you encounter an error during sign-up, resolving that error depends on which step you are in the registration process:

I'm having trouble entering my email address or password
The first step in signing up for Credit Karma is entering a unique email address that you own and a strong password. Here are the most common issues at this step and how to resolve them. 
 
It says my email address is already in use
If you're seeing this message, it means that an account with that email already exists. It's possible that you registered for Credit Karma a long time ago. You'll be able to regain access to your account using one of our account recovery options. You'll need to verify your identity by entering some personal information in order to regain access to your Credit Karma account.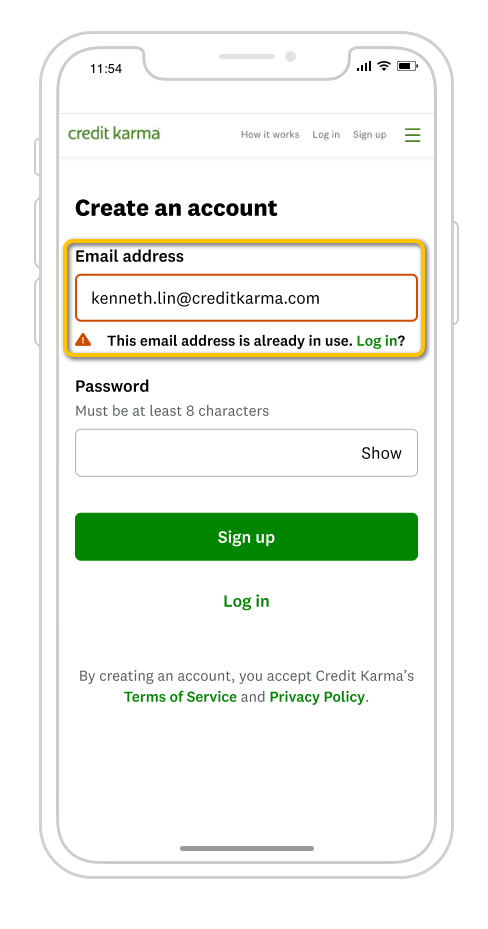 If you believe someone may have used your personal information to create a Credit Karma account without your permission, follow the instructions below.
It's telling me to use a stronger password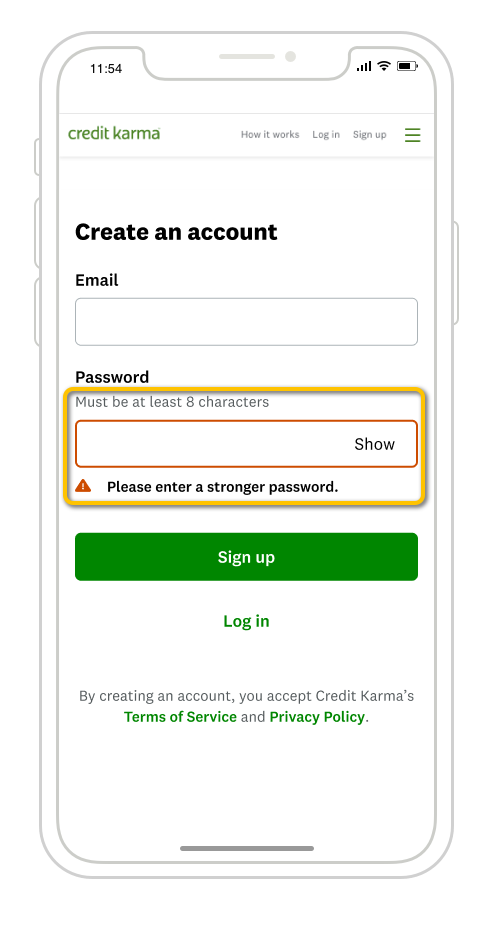 If you're seeing the error message above, the password you're entering may be too easy for someone else to guess. The requirements for a strong password on Credit Karma are:
At least 8 characters
Not a common or easily guessable password
 Read more about creating and protecting your passwords here.

I'm seeing an error while filling in my personal information 
In the Tell us who you are section of sign up you're asked to fill out your personal information.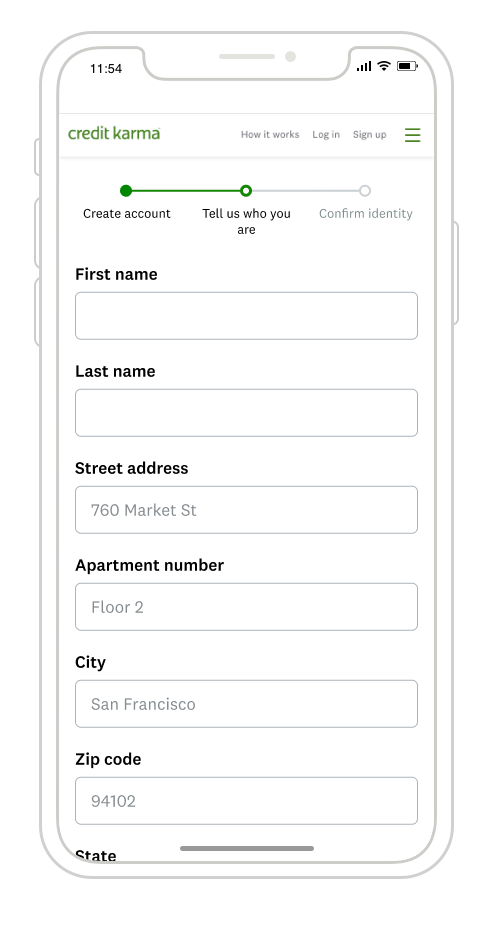 Once you enter your full name, address, date of birth and Social Security number it is matched to TransUnion's credit files. If you run into an error telling you you're missing some important information, it could be because the information on TransUnion is slightly different from what you're entering.

Here are some ways you may be able to get past this if there is an error at this stage.

Try former names or addresses
Make sure you've provided all of the required information. If you missed anything we'll highlight the missed fields in red.
After making sure all the fields are accurately filled out, try entering former names or nicknames you may have used on credit applications. If you normally go by a common nickname, such as Mike for Michael, your credit file may be under the more formal version of your name. If you've recently changed your name, your credit file may still be under your previous name.
You can also try using any former addresses in case the credit bureaus have a previous address on file for you.
If you're really stumped, you can request a copy of your TransUnion credit report from AnnualCreditReport.com to verify which name and address TransUnion has on file for you. You can then use this address to verify your identity and finish signing up.
Try entering your full SSN (Social Security Number)
During your first attempt at signing up, we'll only ask for the last four digits of your SSN. However, if there's an issue, our system will ask for the full nine digits. 
 

Someone may have created a Credit Karma account without your permission
If you believe someone may have created a Credit Karma account using your personal information without your permission, contact us so we can deactivate the account that was created by someone else. 
When you're submitting your case, please select the following options: Security and Privacy > Unauthorized Account Creation. 
Once that account has been deactivated, the personal information cannot be used to create another account without our assistance. If you'd like to create a new Credit Karma account for yourself, we can help you. In cases such as these, we may ask for documentation to verify your identity.
You may have a thin file
Having a thin file means there isn't enough information on your credit reports to calculate your credit scores. This makes it so we're unable to pull enough information from the credit bureaus to create a Credit Karma account for you. 
Thin files can be common for people who are young, new to the country or don't have many open credit accounts. If you were able to receive credit scores in the past but now think you may have a thin file, it could be because you've closed your credit cards or loans and now there is too little information in your credit reports to calculate your scores.
 
Make sure you're checking the box at the bottom
Once you enter all your information, you'll have to check a box at the bottom of the window to authorize us to gather your credit information, including your credit reports from TransUnion and Equifax.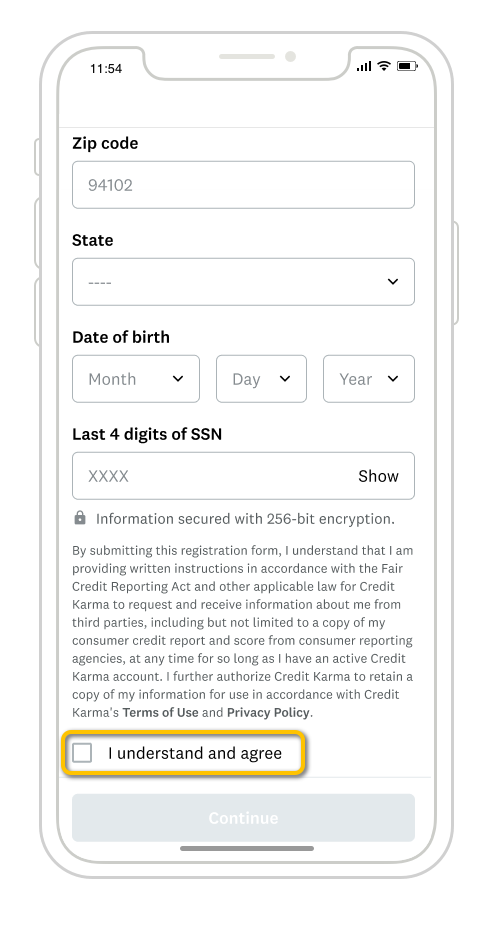 I'm having trouble answering the verification questions 
After you provide us with your personal information, you'll be asked a few questions to confirm your identity. These questions are generated using your credit report data.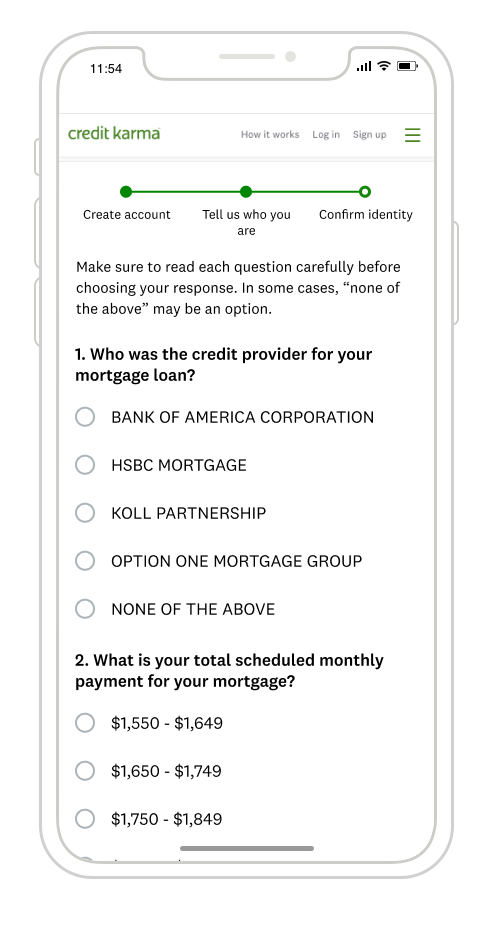 What if none of the options apply to me?
If you see a question that isn't familiar to you, it doesn't necessarily mean something's wrong. You can select None of the above if none of the available options apply to you.
I failed the verification questions, what can I do now?
If you're unable to complete this online identity verification, we may need documentation to verify your identity. 
If you have a valid driver's license or state ID, then you may be able to verify your identity yourself using a smartphone. 
Once you have your driver's license or state ID, you can log in and submit a picture of your ID using the secure portal.
What if I have placed a fraud alert or a security freeze on my credit file?
If there's a fraud alert on your TransUnion credit file, you'll need to answer additional security questions before you can access your credit scores and reports on Credit Karma. See this article for more information: What is a fraud alert?
If you've placed a freeze on your credit reports, you may need to lift them before you can register for Credit Karma. Learn more here: I have a security freeze on my credit reports. Can I still use Credit Karma?