Start Windows in Selective Startup Mode
Selective Startup Mode lets you turn off unnecessary Windows applications and services that may be interfering with normal software installation.
Similar to Safe Mode, this powerful tool can be used to work around installation problems.
Try installing TurboTax in Selective Startup Mode if you're unable to install it on a normally-running Windows session. 
Starting Windows in Selective Startup Mode
Print this article and then exit all running programs before proceeding.
Simultaneously press the Windows+R keys.
Type msconfig in the Open field and click OK.
On the General tab in the System Configuration Utility window, choose Selective Startup, and then clear the Load Startup Items checkbox.

Windows XP shown

 

Now click the Services tab. Select the Hide All Microsoft Services checkbox, and then click the Disable All button.
(Windows XP shown. Services will vary)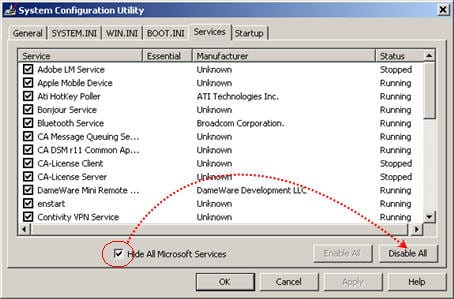 Click OK and wait a few moments. Eventually you'll see the message You must restart your computer. Click the Restart button.
Install TurboTax.
To return to normal Windows mode, repeat Steps 1 and 2 above, then select Normal Startup on the General tab. Click OK and restart your computer when prompted.
GEN12638
Why do you want to report this?