New Member
posted
last updated

‎July 02, 2022

9:24 AM
Why does my unemployment need review?
my unemployment 1099-G has different boxes than turbo?

2 Replies

Level 15
Why does my unemployment need review?
If the form you have looks different than the screen then you may be in the incorrect place since a 1099-G reports more than just unemployment.
To enter unemployment income--go to Federal>Wages and Income>Unemployment.
The 1099-G is issued if you received certain payments from federal, state, or local governments. Form 1099-G covers two types of government payments:
Unemployment compensation or paid family leave, or
Other Types of 1099-G income, including

State and local tax refunds
Business or farm tax refunds
Market gain on Commodity Credit Corporation loans
Taxable grants
Alternative Trade Adjustment Assistance (ATAA/RTAA) payments

Level 15
Why does my unemployment need review?
What box is the amount in? Unemployment is in box 1. You may be trying to enter it in the State Refund section or somewhere else. Delete this one and enter it in the right place.
Enter a 1099G for unemployment under
Federal on left
Wages & Income at top
Unemployment - Click the Start or Update Button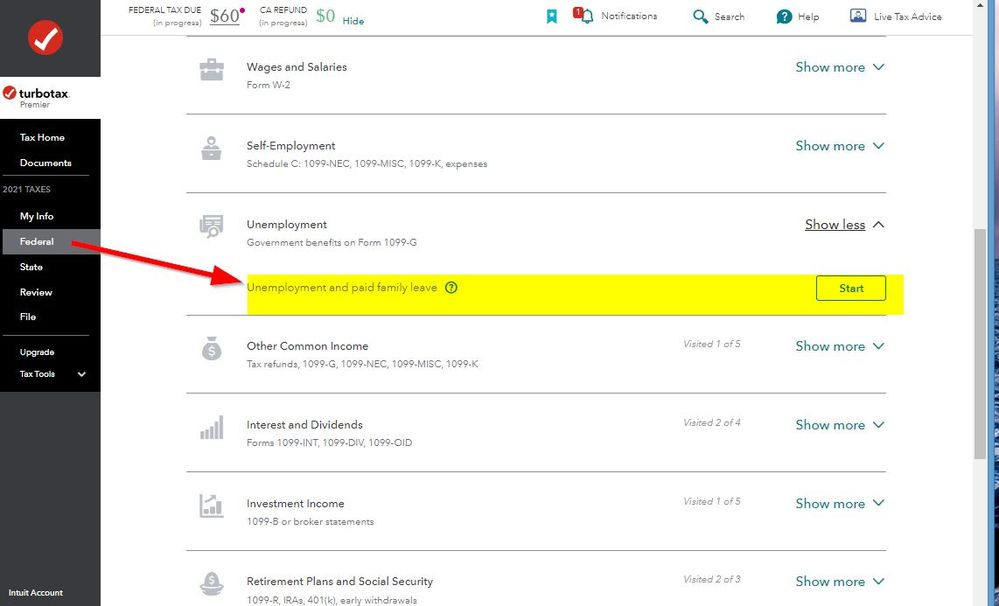 Found what you need?
Start my taxes
Already have an account? Sign In

(4.6/5 | 291,310 reviews)