While completing your taxes with TurboTax®, you may have the opportunity to apply for Refund Advance provided by First Century Bank, N.A. Member FDIC1 on a Turbo Prepaid Visa Card issued by Green Dot Bank, Member FDIC.
You will receive an email with instructions on how to create your online account. Once your online account is set up, you will receive temporary card information that you can use to spend online. You should receive a physical card in the mail within 5-10 business days after the IRS accepts your return.
You can only get the Refund Advance on a new Turbo Prepaid Card. If you received a Turbo Prepaid Card last year, you'll need to create a new account and receive a new card to receive your Refund Advance funds for this year. You won't see the funds if you log in with the account you made last year.
No. You must select Refund Advance, not Turbo Prepaid Visa Card, on the How would you like to receive your federal refund? screen. This is the only way to apply for a Refund Advance. Here's an example of what you'll see if you have the opportunity to apply for a Refund Advance.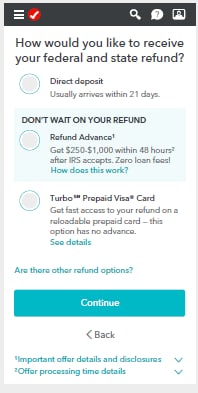 If you select the Turbo Prepaid Visa Card option, the IRS will deposit your refund onto a Turbo Prepaid Visa Card after they have processed your return and issued your refund.
No. Once the IRS issues your refund it'll be loaded to your Turbo Prepaid Visa Card, minus your Refund Advance amount and any other agreed upon fees.1
You'll receive your Refund Advance 48 hours after your e-file is accepted by the IRS. This differs from 48 hours from when you e-filed your taxes through TurboTax or selected that you wanted refund advance. The IRS will begin processing and accepting e-filed returns on January 28.