If you use TurboTax 2018 for Mac, you may have been able to accidentally install the software to the macOS 10.11 El Capitan.
El Capitan is not a supported operating system for TurboTax 2018 for Mac. You may experience blank screens and crash errors while attempting to use the software.
Experience
Due to the issues that you may experience, we've updated TurboTax 2018 for Mac to officially no longer support the macOS 10.11 operating system.
After installing the update we released between December 14, 2018 and December 17, 2018, users on macOS 10.11 receive the following error: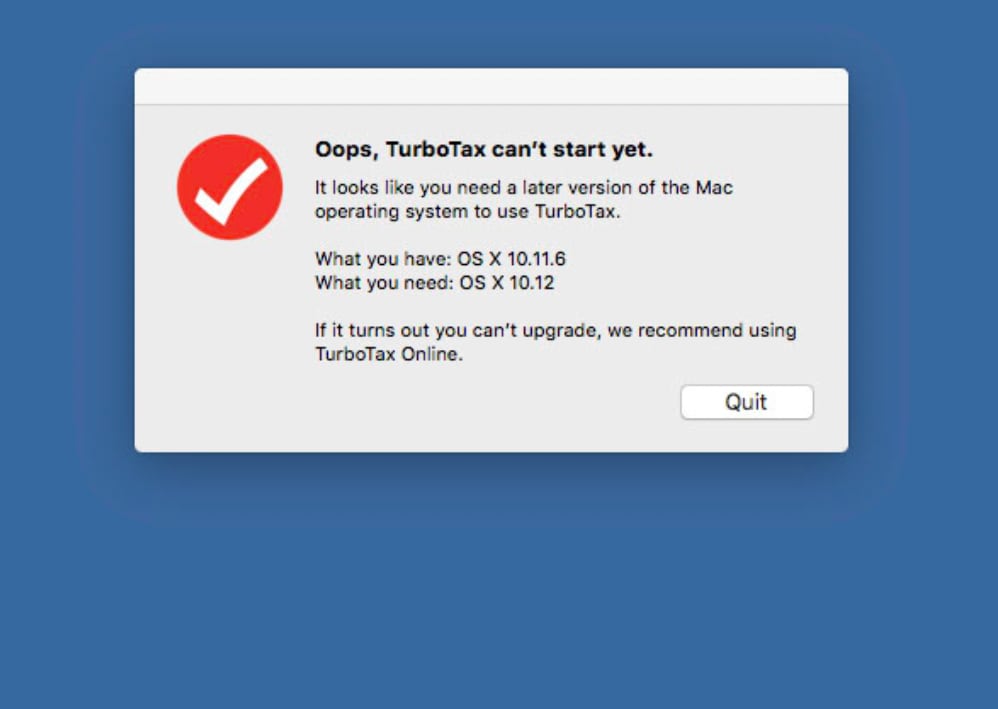 Solution
To resolve this error message and continue using TurboTax 2018:
If your Mac meets Apple system requirements, you can update to macOS 10.14 Mojave through the Apple App Store.
If your Mac doesn't meet Apple requirements to update the operating system, but you have another computer that meets TurboTax minimum system requirements for Mac or Windows, install TurboTax to that computer.
Consider using

TurboTax Online

for your 2018 and future tax prep needs. It has fewer system requirements for your computer or mobile devices and doesn't require a software installation. We also have a mobile app available for Android and iOS devices through Google Play and the Apple App Store.