Returning Member
posted
last updated

‎January 02, 2021

4:10 PM
Mark as New

Bookmark

Subscribe

Email to a Friend
Confused Dad in Desperate Need of Advice. Conflicting Things Written About 2018 / 2019 filers - Regarding 2nd Stimulus
Severely confused PLEASE HELP!
Father of 4 , I last filed in 2018 via Turbo Tax, since then I've been battling cancer and haven't worked.
Most everyone i know with Bank of America has gotten the 2nd stimulus except us, but this is probably a moot point now anyways.. (of course there's also being patient, but pretty sure I shouldn't expect a check automatically now anyways) Here's why...
So i did not file in 2019 as I did not make money, they must have used my 2018 taxes for 1st stimulus payment-That was last year i filed for...
I DID receive first Economic impact payment via direct deposit.
But I did NOT use the non filer tool that was due in Nov. ( i didn't realize i needed to)
p.s. Besides all of this we had a 4th baby in 2020. We need the money so bad...
But my main point of concern is different sources from past weeks stating different things about which taxes the 2nd stimulus is dependent on.
Can someone answer this question with 100% confidence PLEASE?
In the attached images below you'll see one source stating that in order receive 2nd stimulus check automatically, IRS will still look at 2018 taxes if you didn't necessarily file for 2019.
While the the other source states that you specifically must have filed for 2019 to get the 2nd stimulus payment automatically.
So which is it?
Will anyone get 2nd automatic stimulus payments if last time they filed was in 2018? (and didn't use non filer tool as well) Even though they got 1st payment automatically?
Do ONLY folks who filed 2019 taxes get automatic direct deposit for 2nd stimulus payments?
If it is the Latter, this would mean I should file my taxes asap for 2020 to receive payment asap? Even though I didn't earn last year either?
Or is the a grey area?
Please, please help.
Thank you kindly.
J
p.s. if i must file taxes asap, what AGI do i use? The one from 2018? Or Do i select zero (0)?
SOURCE 1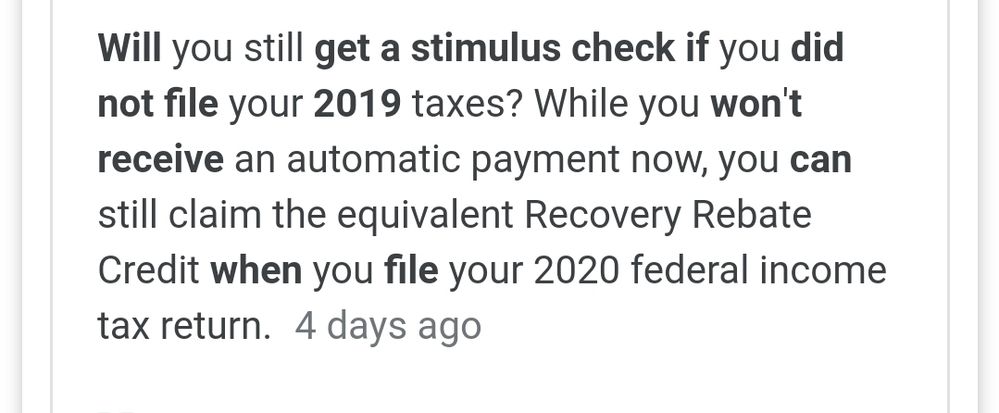 SOURCE 2