Returning Member
‎January 31, 2020
11:18 PM
Mark as New

Bookmark

Subscribe

Email to a Friend
Federal Schedule 1, Line 1 (state refund) not transferring to Minnesota (M1) Line 6
Hi. The amount of my MN state refund from 2018, as reported on federal Schedule 1, Line 1, is not transferring to Minnesota form M1, Line 6. Is there a fix or a workaround? Please see below for details:
Thank you.

As-entered ($123 for MN 2018 refund):

As-shown in underlying form on federal schedule 1, line 1: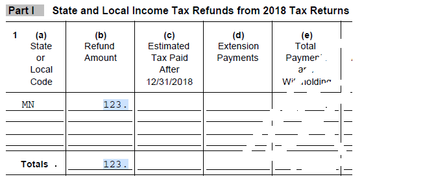 As-shown in print preview of Minnesota form M1, line 6, $123 did not transfer from Schedule 1, line 1:


As-shown in underlying table of M1M:


Note, I have no income from MI or ND which could otherwise explain my issue:


This widget could not be displayed.