Community Manager
Mark as New

Bookmark

Subscribe

Email to a Friend
TurboTax Community Basics
Welcome to the TurboTax Community!
This Community is a great place to discuss tax and financial topics, ask questions, and share your experiences with others. If this is your first time here, you have come to the right place to learn how the Community works.
Let's begin with the basic structure of the Community. The Community is divided into several sections, as in the screenshot below, so you can easily choose a relevant area to start a discussion or explore existing content.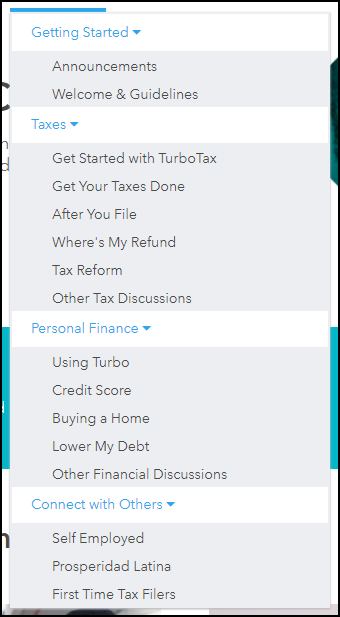 You can go right into any of the sections, search on a specific question, or create your own post.
When you search a topic in the Community, there are various ways you can sort through the related posts.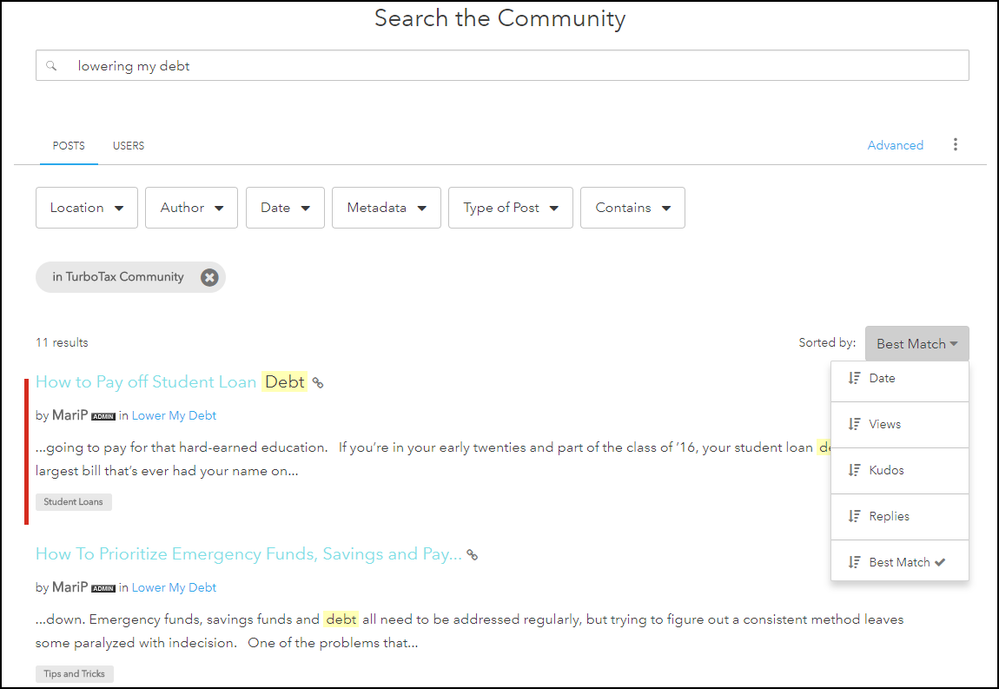 As you can see, you can sort the results several ways to find the best match for what you're looking for. If you don't find a related post, you can start a new one by navigating to the previous page (before entering your search) and looking for the blue Start a Discussion button.
When you start a new discussion, enter a Subject that is concise and clearly states the topic or your question. Choose the most appropriate Board for the post, based on the content or question you are posting. In your Message, share information to start a discussion, post your question with details, or share tips and tricks that you've found helpful. Please remember: Do not include personal information like your email address, phone number, or SSN! This is a public forum.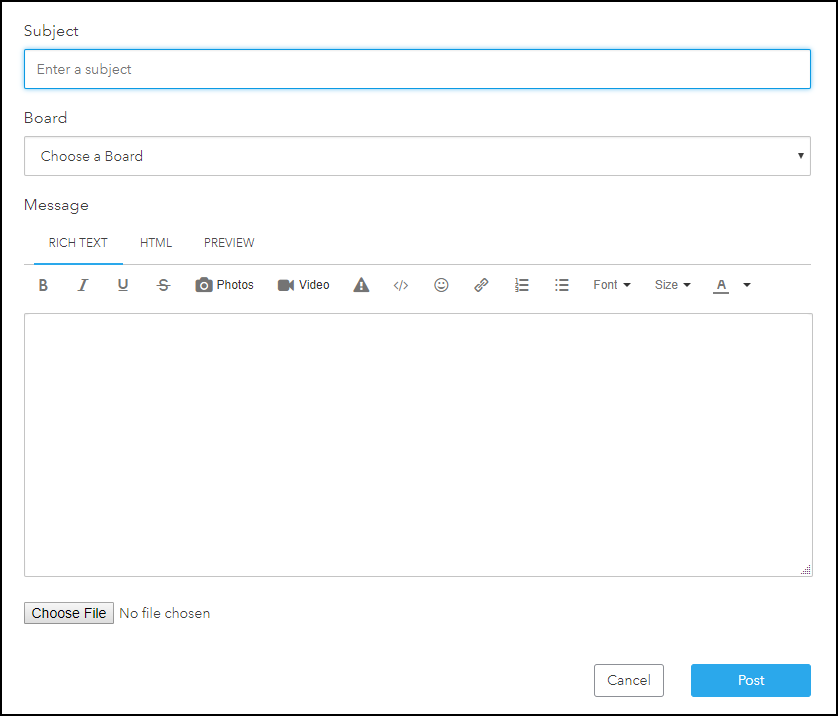 Before you explore the rest of the posts in Get started in the Community, here are a few more tips on how the Community works:
Update Profile: Click on your avatar in the top right corner of the screen and click "My Profile" – here you can see all posts you've participated in, your badges, and your membership stats.
Update Settings: Click on your avatar in the top right corner of the screen and click "My Settings" – here you can update your username, preferences, avatar, and more!
Give Cheers: If a post, reply, or answer is useful to you, you can give Cheers by clicking the button at the bottom of the post.
Share Posts: When you click Share on any of the posts in the Community, you have the option to share the post to a variety of social media platforms, print the content, or send it to someone via email.
Private Messages: You can send someone a Private Message if you want to discuss a tax topic or ask an individual about something related to the Community. Keep in mind that although these conversations are private, the same Community Guidelines apply. You can send a Private Message by clicking on someone's username and then clicking the blue "Send a message" button.
Earn Badges: You can earn badges by posting, giving Cheers, replying to posts, and more! View your badges by visiting your profile.
View Notifications: The little bell near your avatar will alert you when you have replies to your posts or other Community-related updates. Click the bell to open your Notification Feed.
If you haven't viewed our Community Guidelines, please do so before you start engaging in the Community.
We're glad you're here!
**Say "Thanks" by clicking the thumb icon in a post
**Mark the post that answers your question by clicking on "Mark as Best Answer"