You may have received this message when you attempted to open your tax file in TurboTax for Mac:
The document has the wrong tax year or other issue preventing us from opening it.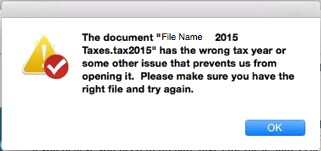 Solution
A TurboTax update has been released that stops this issue from occurring on any new tax returns.
Unfortunately, any tax file that is already receiving the error can't be repaired. You'll need to start a new tax return.
This error affected customers at various different stages of working on their return. If you've already e-filed your federal return, you'll need to print and mail the state return because TurboTax doesn't allow a state return to be e-filed by itself. The same is true for a scenario where you need to e-file another state after already e-filing your federal and another state return.