Launch TurboTax 2018. Select and open the 2018 return. Select File and Save As Amended 2018 return before you update TurboTax to preserve the original return.
Select Online and Check for Updates. Allow the program to update if necessary.
On the Personal screen, select Other Tax Situations. Scroll down and under Other Tax Forms select Start next to Amend a return.
Select Continue and answer:

Yes, I've already filed my return
I was contacted by TurboTax and told I may need to amend for some other reason.

Select Continue and answer:

I want to amend only my federal or only my state return
Amend my Minnesota return

Select Continue then scroll down and select Update next to State Return.
Select Edit next to the Minnesota return, then select Yes, let's amend and get it done, then Confirm original refund or balance due.
On the next screen Amending Your 2018 Return, the Other box should be checked under Reason for Amending.
Answer No, I still have state amend info to enter, then select Continue.
Continue through your state return, answering questions appropriately and as originally answered.
On the screen Let's Check for Minnesota Nontaxable Income, select Yes, I want to see if I qualify for these tax benefits, then select Continue.
Scroll down to Other additional nontaxable income and correct the description and amount of income.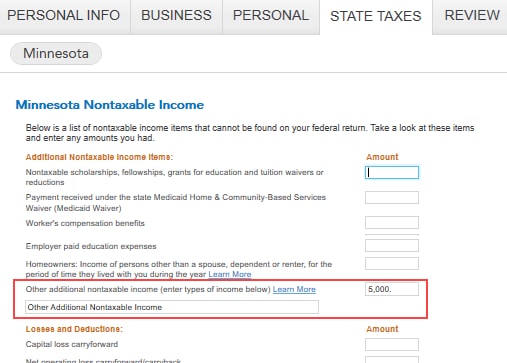 Continue through the return, answering questions appropriately and as originally answered.
When you reach the screen Other Forms You May Need both boxes will be checked. Leave as is and select Continue.
Continue, answering questions appropriately and as originally answered.

The Property Tax Refund screen will show the new adjusted Property Tax Refund amount.

On the Filing Instructions screen, select Print Form M1PR. Print the new Form M1PR or Save as a PDF. DO NOT MAIL THIS FORM This is the new version of the form and will be necessary to complete the amended Form M1PRX.
Select Continue on the Filing Instructions screen.
On the Amended Tax Return screen, select 2018 and Continue.
Confirm information from your original return and select
On the Amending Your 2018 Return screen, scroll down to page 2 and enter the following explanation, selecting Continue after you've entered it.

Amending return to correct amount reported as Other additional nontaxable income for Minnesota which affected Household Income.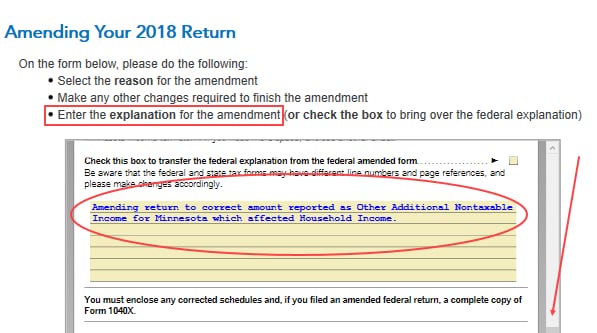 Continue through the SmartCheck results and then select Done With States and Continue.
Select Check Entries and fix any errors.

One detail will be that the return is ineligible for e-filing. The amended return(s) will need to be paper filed. This is correct. Select Continue and Done.

Print and save the amended M1X return and all supporting schedules. Once printed, it will need to be signed, dated, and mailed to:
Minnesota Amended Individual Income Tax
Mail Station 1060
St. Paul, MN 55145-1060
Select Done to close out the amended return. If necessary, continue to instructions for amending Minnesota Form M1PRX.